Are you looking for a chance to work on a short-term project tackling a real-life challenge? A summer/winter residential at TEDI-London could be the perfect opportunity for you!
Our next summer residential:
Our summer and winter residentials are ideal for current engineering students seeking practical, project-based experience, but is suitable for anyone who would like to:
Gain experience working on a project with real-world impact and in support of the UN's Sustainable Development Goals.
Build a compelling and engaging project portfolio to boost CV's and support future job/internship applications.
Learn workshop skills such as using design software and 3D printing technology, prototyping, and electronics.
Develop key workplace skills including: multidisciplinary teamworking, research, making, life-cycle analysis, evaluation, analytical problem-solving, multi-channel communication, self-reflection, independent-thinking, leadership, project management (i.e. planning, design, delivery), market research, stakeholder management, client work, and pitching.
Work in an interdisciplinary team of students from all over the world.
Work directly with stakeholders and learn how to improve designs through feedback.
Learn from industry experts and expand professional network.
Experience TEDI-London's project-based style of teaching.
Register your interest
Want to attend one of our future residentials?
Register your interest so we can keep you up to date with information on how to apply.
During the first 3 weeks of the programme, you'll be given some pre-learning materials to complete online, before you arrive on campus for the remainder of the programme. The pre-learning materials can be completed on a part-time basis alongside your usual schedule, and will be made up of a variety of content types, including:

From week 4 onwards, the programme will run on a full-time, in-person basis at our engineering campus in Canada Water. During week 4, you'll meet your project team, as well as supporting staff from TEDI-London and the engineering industry. This week is all about context; to prepare you for the design stages, you'll learn everything you need to know about our campus facilities and the programme topic, through:

Equipment training and health and safety inductions in our Makerspaces
Teaching and mentoring sessions with relevant industry partners
A workshop to understand the client's needs and the design criteria for the project

During week 5, you'll come up with some initial solution ideas for your project, and analyse them as a team to make sure they meet every aspect of the design criteria and that any potential issues are foreseen. This week is all about exploring your options, and pooling together the knowledge and skillsets within your team to ensure that you finish the week with a strong design idea to carry forward. You'll assess your ideas by:

Making and testing prototypes
Conducting user research
Attending mentoring and feedback sessions with industry partners

In your final week, you'll work with your project team to finalise and refine your design idea, including the development of any physical or virtual prototypes, business planning documents, and presentation materials. During your final day on campus, your team will present your solution to the project client, your residential peers, industry partners, and TEDI-London staff, as part of a demonstration showcase.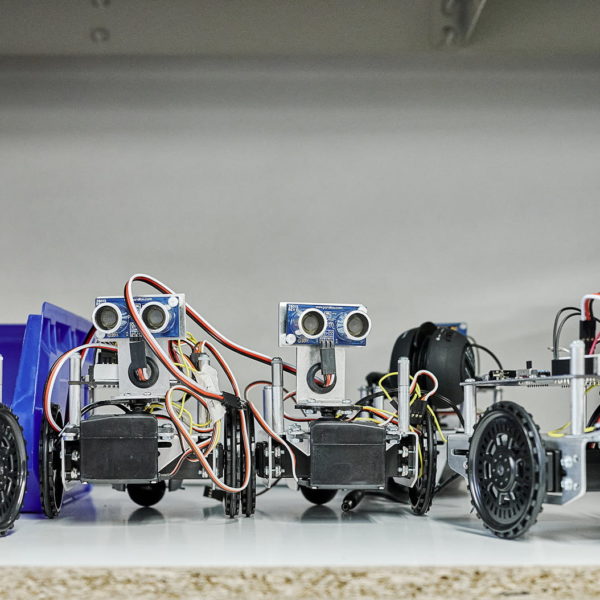 Read about previous residentials
Winter school 2023: Creating a long-term community repair initiative to improve circular economy and reduce electronic waste
Summer school 2022: Using urban farming concepts to design innovative solutions which help local charity boost community engagement
Summer school 2021: Creating innovative engineering solutions for Canada Water's outdoor spaces which support the 'Net Zero Carbon by 2050' challenge
Summer school 2020: Developing data-driven indoor and outdoor solutions to make Canada Water a dementia friendly community
Summer school 2019: Designing healthcare and community innovations for Canada Water residents
Hear from our previous students
"Being part of TEDI-London's summer school this year has taught me a lot about engineering design. It was really valuable for me to understand that you need a lot of information about the problem at hand, who it is for and the different resources available before even starting to develop a solution or build a prototype. "

Alessandro

Summer School student, UNSW

"I enjoyed and learned so much in the 2020 TEDI-London Summer School that I participated again the following year! Having different disciplines come together is the most powerful and productive way to solve the problems that the world is facing. It was great fun to meet so many passionate students and learn from TEDI-London's partners."

Danae Matthews

Summer school student 2021
Our residentials run twice a year, once during the winter season and once during summer.

To participate in any of our residentials, you'll need to be a minimum of age 18.

We've partnered with a London-based accommodation provider to host TEDI-London residential students that are unable to commute to our campus during the second half of the programme. You'll check in on Sunday 25 June and check out on Saturday 15 July. Dinwiddy House is based in King's Cross, with easy access to campus and central London, and will cost approximately £950 for the total stay. Rooms will be allocated on a first come, first served basis once applications are open and the deposit for the programme has been paid.

However, if spaces run out, we'll do our best to support you in making alternative accommodation arrangements.

Please note that the cost of accommodation is not included within the programme fee.

Definitely! Interdisciplinary teams are crucial when it comes to tackling global challenges, and teams that approach problems with each of their perspectives and skillsets in mind often develop better outcomes.