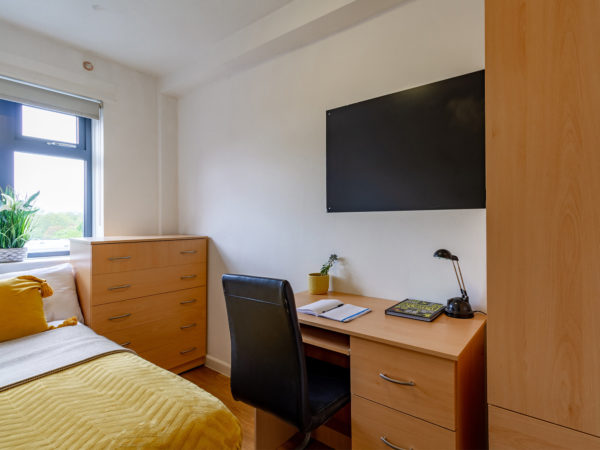 At TEDI-London, we don't have our own accommodation. But the campus's excellent travel links mean you can either live locally or look further afield.
We want to make sure you are well supported and feel safe and secure as we understand where you live is an important part of your student experience. We have strong relationships with well-respected providers of student accommodation. So, we'll be able to help, whether you are looking for a room in halls, private student housing, a flat or house share.
Below are some recommended accommodation providers to choose from:
CRM Students: Great Court

Great Court is located 17 minutes away in Zone 2 with affordable rates and close access to Bermondsey tube station. There are a number of great communal spaces on site including a lounge, movie and gaming theatres, gym, and study areas. Room choices range from private studios to rooms that have a communal kitchen and dining areas.

Landale House

If you're looking for accommodation that is walking distance from campus then Landale House is in Surrey Quays and offers budget-friendly accommodation with a mixture of ensuite and shared facilities.

Londonist DMC

Londonist DMC is a student accommodation agency providing students with short and long-term accommodation. They have over 20 locations across London, with a portfolio that includes student residences in King's Cross, Spitalfields, Lewisham, Greenwich, Stratford and more. They have stylish en-suites, studios and apartment rooms. The residents can use all the on-site facilities such as gym, cinema, social and study spaces, and rely on a 24/7 security team.
HOW TO APPLY FOR ACCOMODATION
The application process will be handled directly with the accommodation provider selected. If you'd like to discuss your accommodation needs and options further, the TEDI-London Student Hub team are here to help: studenthub@tedi-london.ac.uk
FINANCIAL THINGS TO KEEP IN MIND
Whether you get furnished or unfurnished, shared or private will depend entirely on your needs. You also need to consider the cost of bills, including gas, electricity and the internet when looking at accommodation.
Some accommodation will include all bills in the cost of the rent, others will require you to set them up and pay for them yourself. Depending on which accommodation you choose, you might be able to share your bills with your flatmates.