Welcoming TEDI-London's Royal Academy of Engineering Visiting Professor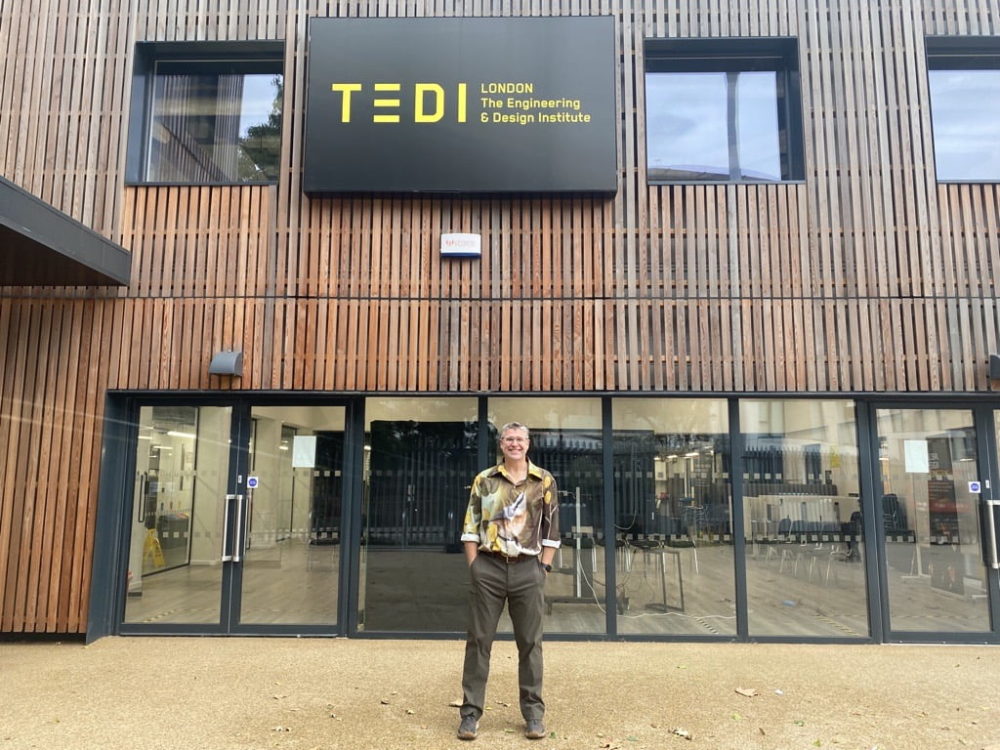 We're delighted to welcome Professor Joe Steensma as a Visiting Professor at TEDI-London through the Royal Academy of Engineering (RAEng)'s Visiting Professorship initiative, which aims to enhance the learning experience of UK engineering students through providing them with additional mentorship and industry networking opportunities, as well as through the development of innovative engineering curriculums.
Through the RAEng's Empowering Engineers through Entrepreneurship Award, Professor Steensma will be able to spend almost 30 days supporting TEDI-London each year, whether this is through co-delivering parts of our Global Design Engineering degree programme, running events at our campus, or sharing his own expertise to support our students' learning – either through workshops or individual sessions.
Professor Steensma's expertise lies in business development, environmental science and teaching, with more than 25 years of experience in transforming organisations by improving operations whilst reducing their carbon footprint. He is also a Professor of Practice at Washington University in St. Louis in the USA, focusing on Social entrepreneurship, Sustainability, Environmental Health, and Occupational Health & Safety.
"We're delighted to welcome Professor Joe Steensma into the TEDI-London community! Given the importance of developing a global mindset and workplace skills including entrepreneurship in each of our students, we're excited to see how his knowledge and passion enriches their education. We're grateful to Professor Steensma, the RAEng, and Washington University in St. Louis for their support."
Professor Judy Raper, Dean & CEO at TEDI-London.
In line with the mission of our founders – Arizona State University, King's College London, and UNSW Sydney –, we're dedicated to bringing more diverse, workplace-ready engineers into the industry and paving the way for them to play their part in solving some of the biggest challenges we face as a global community. Professor Steensma's appointment will be a huge benefit to our students as he supports and inspires them to develop the workplace skills in communication and leadership that they'll need to thrive as future engineers. What's more, developing a link to another global university will provide our students with the added benefits of knowledge-sharing, a broadened perspective, and gaining a better understanding of different educational systems.
For his first initiative in his new role, Professor Steensma will be running an on-campus event open to TEDI-London students, as well as members of the wider community within our local area of Canada Water. Entitled 'So you want to be an Entrepreneur?', the event will focus on helping participants to understand how to develop their revolutionary ideas into marketable solutions through:
Understanding target markets
Developing a value proposition
Quick prototyping
Growing forms of capital to launch their business
"Being named a RAEng Visiting Professor is the honour of a lifetime. More than that it represents an incredible opportunity to exchange ideas and posit solutions with students and peers around some of the most intractable challenges faced by people in Canada Water, London, the UK, and around the world. Working with TEDI-London and its uniquely effective pedagogy will be a great learning opportunity for me and mutually beneficial for its students and the communities we all seek to serve."
Professor Joe Steensma, RAEng Visiting Professor at TEDI-London.
Want to learn more? Register to attend Professor Steensma's event at TEDI-London.