Welcoming our new Chair of the Board of Directors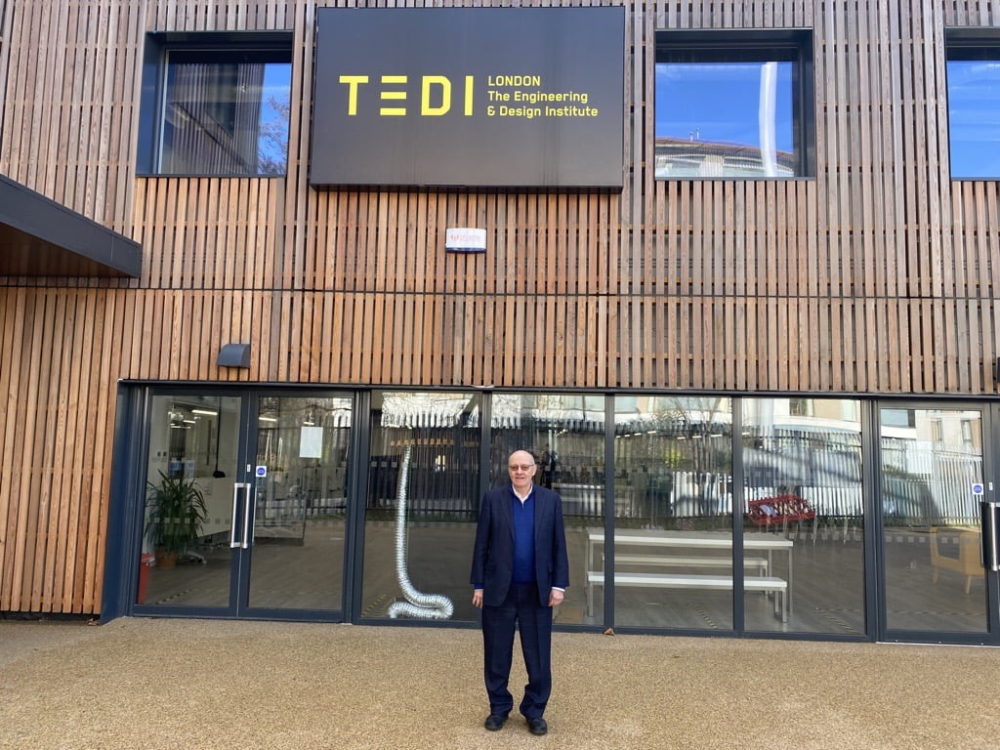 We're excited to welcome Peter Hansford as our new Chair of the Board of Directors! Peter Hansford has worked within the civil engineering and infrastructure industries for more than 40 years, and we look forward to receiving his guidance and expertise as TEDI-London continues to grow and thrive. 
We'd also like to thank Dr Chris Roberts – whose term as Chair of the Board comes to an end in May – for all of his support throughout our early years of development. During his service to TEDI-London, we've reached some significant milestones, including forming our Global Design Engineering curriculum, welcoming our first two student cohorts, earning degree-awarding powers, and achieving our 'institute' status. 
Who is TEDI-London's new Chair of the Board?
Peter Hansford is a well-known civil engineer who has previously worked on projects with a range of companies and professional bodies – both within the UK and overseas. During his career, he has also made numerous accomplishments, including: 
Being awarded a CBE in 2020 for services to innovation in civil engineering

 

Serving as the

Institution of Civil Engineers

(ICE)'s President in 2011

 

Serving as the government's chief construction adviser between 2012 and 2015

 

Serving as the Chairman of

Engineers Without Borders UK

– one of TEDI-London's industry partners – from 2011 to 2017

 
"We're delighted to have Peter on board to help shape the future of TEDI-London, and to support our students through the valuable insights and networking opportunities he can offer them. Given his many achievements within the industry, there were a whole host of opportunities available to him, so we're delighted that he chose TEDI-London. He'll be a wonderful inspiration to our students, demonstrating how much they can achieve through hard work and dedication as they embark on their engineering careers." 
Professor Judy Raper, Dean & CEO 
How will Peter Hansford support TEDI-London and its students?
As we prepare to increase our student population with our third cohort in September 2023, Peter's combined experience as both an engineer and a leader will be invaluable in helping us scale our teaching and admissions models, providing strategic direction, and supporting us with decision-making. He'll also act as an external ambassador for TEDI-London, and a link between us and our three founding partners – Arizona State University (ASU), King's College London, and UNSW Sydney. 
In terms of supporting both our current and future students, Peter's standing and extensive network within the engineering industry will help us expand our own industry network even further. This will provide more opportunities for our students to learn from industry experts through projects and workshop sessions, and perhaps even open doors for them when seeking internships and employment.  
"I'm very pleased to begin my new venture as TEDI-London's Chair of the Board of Directors. Despite having retired already, I was drawn to TEDI-London when I came across the opportunity because its mission really resonated with me. The future needs engineers who are globally responsible and can see their place in the world – they need to understand how their skills can be used to shape society for the better. The innovative way that TEDI-London students learn will help them to become the considerate, big-picture problem-solvers that the industry needs – and I'm excited to be a part of it!" 
Peter Hansford, Chair of the Board of Directors