Summer school 2022 wrap-up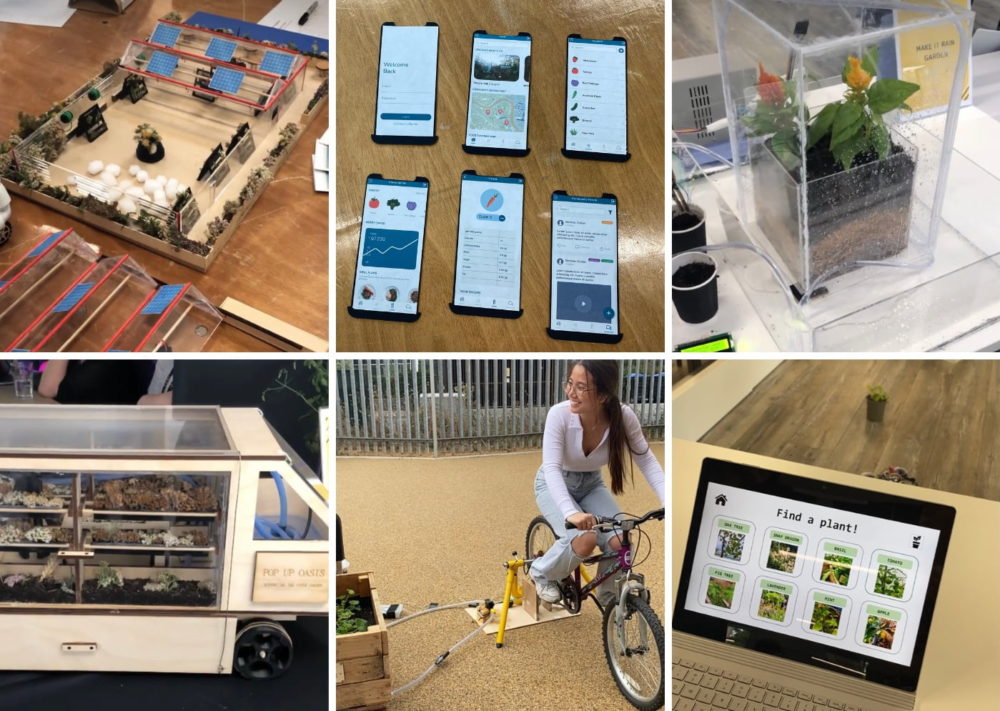 It's been busy on campus, as six summer school teams designed and developed urban farming solutions to help our neighbour, Paper Garden, increase the impact that the garden has on the local Canada Water community.
Their time at TEDI-London concluded with a Demo Day, which gave teams the opportunity to present their ideas and prototypes to their peers, industry partners, local community members and TEDI-London staff.
So, what did each team come up with?
View this post on Instagram
Just Project
Receiving the most votes on demonstration day, the team developed an idea for a floating cinema and exhibition to be situated on the water. With the Canada Water masterplan bringing about significant change, the team recognised a need for new leisure facilities – that would not impose on the plans – to be developed for the local community.
Key features of the design included a projector and main plant wall 'screen' for films, portable miniature plant screens, seating areas and a glass roof providing natural light. The team also developed an interactive sound system whereby plants would complete electronic circuits powering speakers, with different electronic frequencies producing a different pitch; touching the plants would adjust the frequency and thus the pitch.
Keeping sustainability in mind, the team showed how hydroponic systems would be used to water plants, and how solar panels would power any electronic components within the structure. Just Project also drew upon key engineering principles to build their prototypes, like building a version of their sound system with real plants and buzzers and calculating which angle would allow the solar panels to capture the most sunlight.
Slugs & Co.
Addressing the problem of rising living costs, team Slugs & Co. designed an app to encourage local community members to grow their own food, which would help to reduce the reliance on food banks. To encourage people to grow their own food, the app contained numerous features, including meal planning recipes, information on nutritional values, and algorithms to calculate how much money users would save by growing a particular food product themselves compared to buying it.
The team also considered how to help users feel they are part of a local farming community through a range of additional app features, including forums where users can trade produce and share advice, information on relevant local events and a map featuring all the community gardens within the area.
The team created a prototype of their app so that they could bring their vision to life and showcase its features.
Make it Rain Garden
This team focused on enhancing the existing Paper Garden. Noticing that considerable amounts of water was being wasted by manually transporting it from a tank to the plants, the team re-designed the community garden, adding in a central pipe and irrigation system that could be used to water the plants.
The team created a prototype of their 'self-watering plant pot', which featured a sensor to monitor the moisture levels of the soil and automatically water the plants when needed. The pot was also designed to recapture any unused water so that it could be reused, minimising waste.
Having automatic, efficient systems in place ensures that plants can grow more quickly and in better health, allowing the team at Paper Garden to provide more food to the local community. To encourage community participation, the team built a firepit into the garden, as well as seating areas where members of local schools, businesses and residents can socialise and participate in educational workshops run by Global Generation.
Pop Up Oasis
Hoping to educate the younger generation – alongside their parents and teachers – on what urban farming is and the issues it aims to solve, this team designed a prototype for a food truck which doubles as a portable classroom. The truck also aims to remind visitors that they can actively participate in improving and influencing their local community through urban farming.
Featuring miniature vertical farms on the outer walls, a central table to prepare and eat food and a screen for showing educational videos, the solution provides a hands-on social and educational experience that is both accessible and immersive.
The team drew upon urban farming technologies to ensure maximum efficiency, including a hydroponic watering system to minimise water waste and a skylight to support plant growth.
Water Cycle
To enhance the Paper Garden's appeal to younger audiences whilst maintaining healthy plant growth, this team proposed more interactive watering systems such as pumps attached to bicycles.
Leveraging sensor technology, the team created a traffic light system to indicate when the soil was sufficiently damp for the plant. This not only ensures that the plants are not over-watered by garden visitors, but also acts as an educational aid to explain to children what is needed for plant growth. Taking the issue of water waste into account, the team included a water filtering system in the plant bed and placed it on top of a collection tank so that water could be recaptured and reused.
The team built a working prototype of the system in action to demonstrate how it would work with a bicycle, including the light system to indicate whether watering is needed. To encourage visitors to return to the Paper Garden, the team proposed an app where users are notified when their plant needs watering.
I-Plant
Intending to make the Paper Garden more appealing to neurodivergent children, team I-Plant designed interactive teaching tools to help users navigate the garden and learn about plant growth.
One of these was a robotic assistant, of which the team built a prototype to demonstrate its function; to interface with a user-friendly screen that the child can interact with. This means that they can learn about a particular plant at the garden entrance, before they are led to it by the robot. When not in use, the robot is free to roam around the garden and is programmed to avoid colliding with obstacles and guests using sensor technology. The team also leveraged sensor technology to monitor the moisture and humidity levels surrounding each plant, helping to educate children on what plants need to grow healthily.
The team researched the challenges that this user group faces when it comes to immersive environments and drew upon psychological theories like colour theory to make their solutions as appealing as possible.
"It's been amazing to see how much the students covered in only three weeks. Their appreciation of the design context, the prototype quality and industry-readiness of their work have been outstanding. We are indebted to our expert contributors, without whom these achievements are not possible. Thank you LondonGrow, Global Generation, British Land and JLL for your input and time. Summer school 2022 captured the spirit of TEDI-London and we're looking forward for more to come!" – Professor Julie Bregulla, Summer School programme lead and Director of Innovation at TEDI-London
Find out what students thought about the 2022 summer school programme.