Looking after your wellbeing at university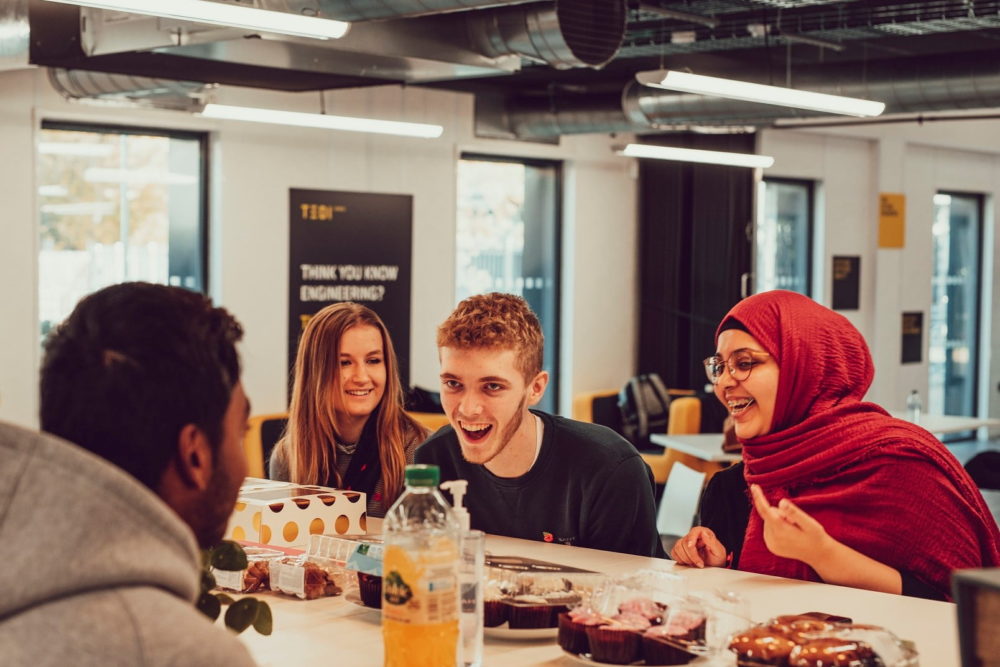 There's no doubt that going to university is an exciting and very important step. But it can also be daunting, especially if you're moving away from home. With so many new things to juggle as you start your first term, it's more important than ever to make sure you're taking proactive steps to maintain your wellbeing. After all, if you're feeling healthy, happy and at home in your new environment, your academic performance is sure to benefit.
Iman Ali, from the TEDI-London Student Hub, shares her key advice for taking care of your wellbeing during your first term of university and beyond:
1. Keep in touch with your existing support network
It goes without saying that you'll form plenty of new friendships at university – possibly even lifelong ones! However, whilst there's still lots to navigate, it's beneficial to maintain a sense of consistency by keeping familiar faces in your support network. This doesn't have to involve constant messaging or daily phone calls – you don't want it to distract from your new hobbies, friendships and study. But knowing that you have a family member or friend that you can visit or Facetime when you need to see a familiar face can be a huge help when you're in the early stages of university life.
Iman's top tip: Before you embark on your new adventure, set a date to visit your family or friends, even if it's a month or more away. This gives you something familiar to look forward to during your first term, and a great opportunity to tell them all about your university experience so far!
2. Build a new, local support network
Whether it's a personal difficulty or pre-exam stress, you'll need a local support network around you to help you through any challenges you encounter at university. Even when you're not under any stress, your wellbeing will be significantly boosted if you have friends you can see spontaneously, explore your new area with, or meet for lunch on campus. If you're coming to TEDI-London you can meet new people in your accommodation block or at local community spaces, as well as, of course, your course mates. What's more, you'll have affiliate membership with Kings College London student union (KCLSU), so you can meet new people through attending events and joining clubs, societies, and sports teams.
Iman's top tip: If you find yourself dealing with any significant personal issues, or consistently struggling to maintain your study schedule, it's always best to find support sooner rather than later. At TEDI-London, our Student Support team is on-hand to offer help and advice so you can get back on track.
3. Establish a new weekly routine
Getting into a routine is a very good way to settle into a new environment. If there are aspects of your pre-university routine you enjoy, such as playing sports, visiting the cinema or rehearsing with a musical group, it's worth replicating and building them into your university schedule. Whether you're looking to continue an existing hobby, or try something new, there are plenty of clubs and societies you can join as part of KCLSU. Before you sign up to new commitments, figure out how they'll fit into your studies alongside any other commitments – like part-time jobs or food shopping – you have. It's important to plan around these, as well as day-to-day necessities like commuting, cooking dinner, and getting enough sleep. This will help develop your time management skills and prevent you from taking on too much.
Iman's top tip: Download the Citymapper app to plan how long each journey will take between your home, campus, workplace, and anywhere else you need to go regularly. It's also worth researching alternative routes, so you have a back-up option in case of travel disruption.
4. Maintain healthy habits
When starting at university, it can be tough to focus on much besides keeping on top of your studies and socialising. Whilst these are important, it's also crucial to eat well and make time for regular exercise; not only will this keep you feeling well and energised physically, but will work wonders for your wellbeing too. If you find it tough to stay motivated, exercising with a friend keeps you both accountable. Whether it's cycling to campus, jogging along the river together, or finding a local dance class, you'll soon find yourself maintaining good habits. If you live away from home, you could adopt a similar approach to eating; suggesting a cooking rota with your housemates will encourage you to put more effort into making healthy meals, and cooking will feel like less of a chore if you don't have to do it every day.
Iman's top tip: Before you move away from home, offer to cook a few healthy meals for your family. You'll familiarise yourself with cooking regularly, not to mention refining your culinary skills! It's also a good idea to take a copy of your favourite recipe book with you.
5. Make yourself at home
Your new campus and living environment won't feel like home unless you make it one. As you're settling into university life, find out where you can go to relax, both on campus and in the local area. If you're joining us at TEDI-London, there are plenty of friendly places in Canada Water to explore. There are also kitchen facilities, showers, and sofas on campus to help create a comfortable environment to relax between studying.
Iman's top tip: If you're moving, think about how you can create a home away from home. Building a photo wall, hanging fairy lights, or packing your favourite throw are small touches that can make a big difference.
Did you find these tips useful? Read more advice on starting at TEDI-London from the students themselves.