Our students' top tips for starting at TEDI-London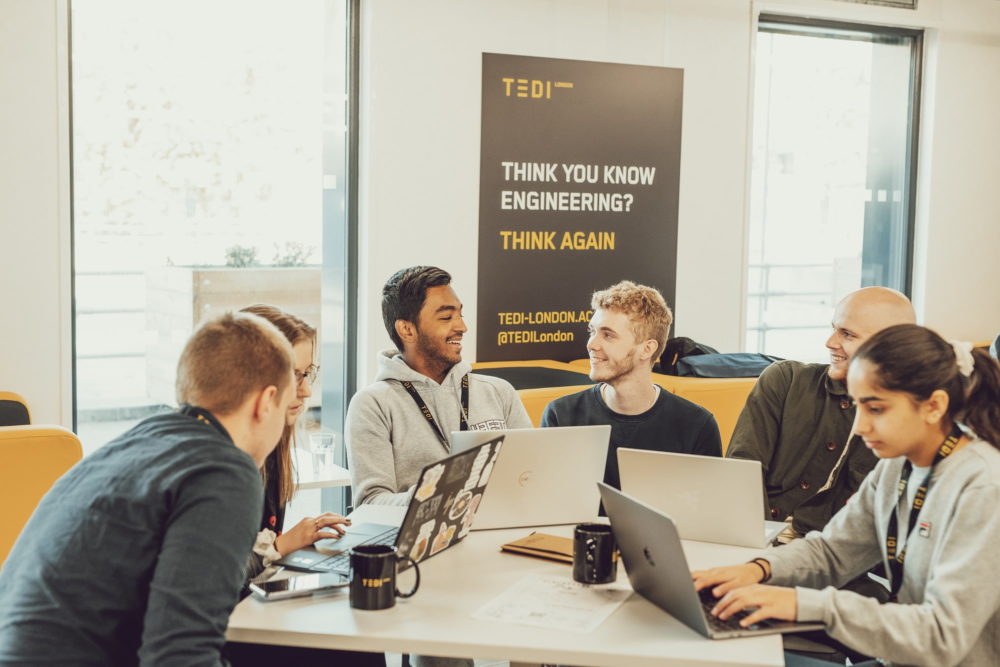 Starting university is exciting, and during your first term you'll encounter lots of new people and experiences. With so much going on, it's important to take steps to ensure that you're settling in as best you can, both socially and academically. Luckily, our existing students were in the same boat as you this time last year. So, if you're joining us at TEDI-London in a few weeks' time, be sure to take the advice from Shafeen, Anjali, Zainab, Anya and Caelan on board!
1. Take advantage of Kings College London student union
Every TEDI-London student is granted affiliate membership with Kings College London's student union (KCLSU), as it's one of our founding partner universities. This allows you to join as many of their clubs, societies and sports teams as you like, and provides access to events like careers fairs and socials. Making the most of this will help you make friends outside of your course, build non-academic activities into your routine and develop your networking skills.
"Attending KCLSU events is a great way to get out of your comfort zone and make more friends to explore the city with. At TEDI-London, we work closely in teams on our projects, so we often find ourselves talking about our studies when we're together on campus. Having friends that study different subjects at KCL can help to separate work life from social life, which is definitely important."
Shafeen Khoda, TEDI-London student
2. Explore the local area
Even if you don't move away from home when you start university, it's always a good idea to familiarise yourself with the area around campus. After all, you'll be spending plenty of time there once term starts. It can be easy to get swept up in the big attractions and events – especially in London – and forget about the smaller communities close by. If you get to know where there is a friendly café or community space, you'll find that the bustling city feels a little calmer and closer to home. In TEDI-London's local area of Canada Water, there are lots of places to visit, which you can find out about in our Guide to Canada Water.
"There are plenty of fun things to do in Canada Water that are great if you want to take a quick break from studying or socialise at the weekend. Getting to know the area around campus from early on in your first term will help you feel more at ease in your new environment. If you can, it's even worth visiting before welcome week starts; if I had done so it may have encouraged me to be more independent and live away from home."
Anjali Sagar, TEDI-London student
3. Spend time on campus outside of teaching sessions
It can be tempting to avoid coming onto campus until your timetable requires it. Whilst we encourage students to carry out their online learning where and when they feel most comfortable, it can be very beneficial to complete some of it on campus. This is because you can more easily ask your tutors for help if you're struggling with a particular topic, and being in a work environment will probably help you focus and avoid distractions. What's more, our makerspaces are open outside of timetabled sessions, so you can use the tools and equipment to undertake personal projects and become more confident at working with them.
"The TEDI-London campus has a friendly and collaborative atmosphere, where the staff are always happy to chat and take a genuine interest in our ideas. Spending time with my course mates and tutors outside of timetabled sessions is something I wish I'd done more of, as it would've allowed me to expand my knowledge even further and share my wisdom. It's a valuable piece of advice that I'll be taking with me into second year!"
Zainab Ahmad, TEDI-London student
4. Set yourself personal deadlines
When completing a project or submitting a piece of work, you'd be surprised at how many students leave things until the last minute. But even if planning ahead is one of your strengths, experiencing a delay that's outside your control is always a possibility. Whether it's illness, an unforeseen problem with your project or something as simple as Wi-Fi connectivity issues, it's much easier to deal with if you've factored in a buffer between completing and submitting your work.
"One of the key things I've learnt from my first year at TEDI-London is the importance of setting personal deadlines. You just have to ignore the 'real deadline' and set yourself a fake deadline for a week or so before a final project is due. Even if everything goes to plan, it's helpful to have additional time for proofreading, referencing, and making small edits before hand-in. Not only is this for your own sanity, but it improves the quality of your work too!"
Anya Clayden-Castelli, TEDI-London student
5. Expect things to go wrong
Engineers are constantly having to adapt to sudden change, like addressing an update in a client brief or fixing a faulty prototype – that's what makes them such great problem solvers! Part of the reason why we teach our students through projects is to help equip them in dealing with situations that require adaptability. It's important to understand that things won't always go to plan, and to be comfortable with making mistakes. Handling them isn't something to fear, but to practice resolving and learn from.
"I've made so many little mistakes in the makerspaces, from forgetting to plug Arduinos into my laptop and wondering why it won't connect, to breaking a 3D print when removing it from the printer. It's these little things that you can have a laugh at and learn from. You don't need to feel ashamed about making a mistake; if you can resolve it and take it on board, it will help you become a better engineer."
Caelan Vollenhoven, TEDI-London student
Want to know more about what you'll be doing when you enrol at TEDI-London? Find out about the 2022 introductory project, the Engineering for People Design Challenge.