Introducing TEDI-London's All-Female Senior Leadership Team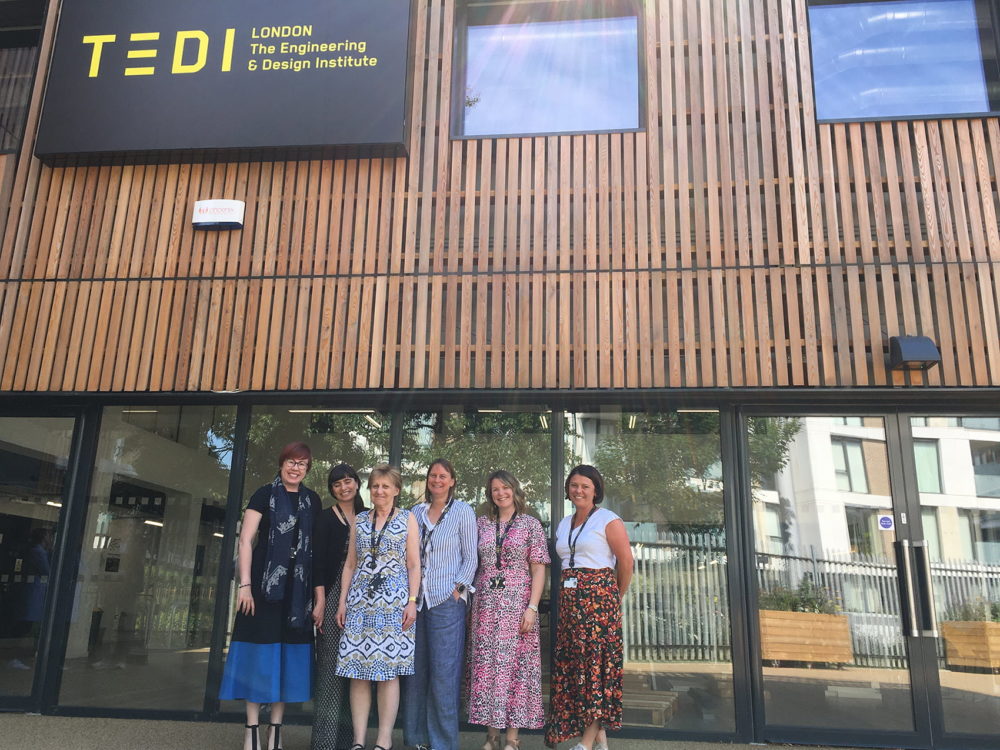 From left to right: Kerry Jenkins, Professor Julie Bregulla, Professor Judy Raper, Professor Kay Bond, Carmai Pestell, Helen Merrills. 
If you've ever researched the engineering industry, you'll probably know that it isn't as diverse as it could – and should – be. At TEDI-London, we are eager to bring more women and people from minority backgrounds into the industry, so that the engineering workforce can better represent the societies it serves.
In fact, one of the key reasons that we were founded by Arizona State University, King's College London and UNSW Sydney is to attract a new generation of more diverse future engineers who can offer a broader range of perspectives when it comes to problem-solving. To give an example – despite recent efforts, women still make up only 16.5% of the engineering workforce, proving that there is still much to be done.
This is where our senior leadership team comes in; with the recent appointment of Professor Julie Bregulla as Director of Innovation (Projects and Partnerships), TEDI-London is being spearheaded by a dedicated and knowledgeable team of women:
– CEO Professor Judy Raper, a distinguished chemical engineer and recipient of the Australia Medal for services to education. 
– Academic Director Professor Kay Bond, a Chartered mechanical engineer, formerly of the University of Nottingham where she had responsibility for engineering curriculum development and teaching quality assurance and enhancement. 
– Director of Finance and Resources Kerry Jenkins, a Chartered Accountant with a significant amount of experience in public sector finance, who led the successful bid for capital investment funds from the OfS. 
– Professor Julie Bregulla, recently been appointed as Director of Innovation, to expand TEDI-London's network of industry partnerships. This will both help our students work on real-life issues and allow us to make a positive impact on the communities we interact with outside of campus. 
– Registrar Carmai Pestell, who led the successful applications to register TEDI-London as a degree awarding, OfS registered Higher Education Institution.  
– Director of Marketing, Recruitment and Admissions Helen Merrills, who joined TEDI-London as a consultant before stepping into a full-time role to lead the establishment of the innovative new brand for the sector. 
Having already seen a 50/50 gender split within our first student cohort, the team will continue to inspire more women to consider a career in engineering. Not only this, but they will be able to draw upon their collective experiences to change the narrative on what engineers can do and what it is like to work as one.
Our all-female Senior Leadership Team is hugely significant. Opportunities for women entering the industry were lacking when I was setting out in my own career, so having such a strong team of women paving the way for the engineers of the future shows how far we've come already and we're looking forward to our continued work on diversifying the industry."

– Professor Judy Raper, Dean & CEO at TEDI-London.
TEDI-London's Senior Leadership Team is an inspiration to its female students and it is fantastic to see it move from strength to strength. As we celebrate International Women in Engineering Day, I am very proud to be a Board member for an institution that is taking the engineering gender gap seriously and working hard to make a positive difference."

– Emma Cariaga, Joint Head of Canada Water Development at British Land and Board member for TEDI-London.