What does a design engineer do?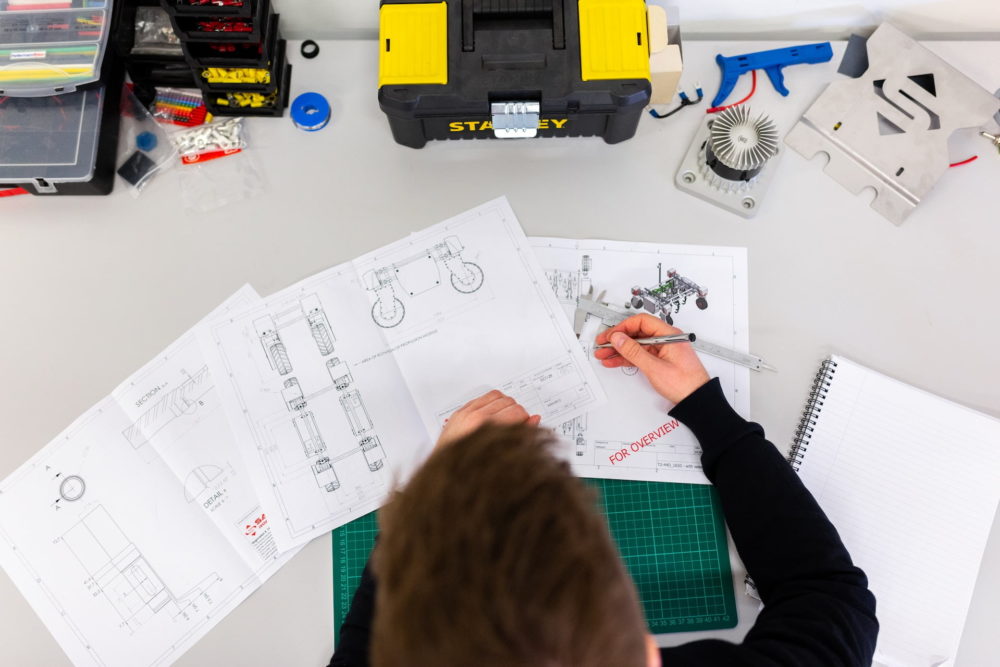 Making decisions about the next steps to take in your education and planning your longer-term career can be overwhelming. Within engineering alone, there are a whole host of different job opportunities to pursue.
Since we specialise in teaching one subject – Global Design Engineering – at TEDI-London, our students are learning how to design solutions across many different engineering disciplines – from electrical and civil to environmental. But what does a design engineer actually do?
We spoke to Academic Director Professor Kay Bond to shed a light on some of the key responsibilities that design engineers have in the world of work, and to find out which skills you would need to become one.
Project management
Design engineers go beyond the just the 'designing' of exciting new products and solutions. As a design engineer, you would most likely be working with clients to solve a problem or meet an important need. This requires careful planning and regular client communication because it would ultimately be your responsibility to make sure that the project is delivered on time, within budget, and to a high standard of quality. Regardless of the industry you choose to work within, the health and safety of the end users is a priority, so it's crucial for design engineers to proactively check for industry updates and changes in regulations and legislation and apply them within every project.
Throughout the different stages of a project, you'd probably also work within – or perhaps even manage – a multidisciplinary team. This may include market researchers, technical copywriters, engineers, manufacturers, and more – each of whom would bring a distinct skillset and contribute to the project in varying ways. Collectively, your team would be required to keep stakeholders updated throughout the project, which means producing detailed documents explaining research findings, design specifications, and outcomes from testing.
Kay's skills checklist: leadership, time management, commercial awareness, budgeting.
User and market research
The first step for a design engineer within any project is to make sure you understand exactly what the objectives are. You could find this out through client meetings, briefing documents, customer services, or a combination of each. Once you have all the information you need, you would need to research existing solutions, or similar products that are already in the market. Depending on which area of engineering you're working in, you may need to determine whether you can draw upon existing methods for your own solution, and whether there are any issues related to these that you need to address and improve. Or, you might need to come up with a creative new feature for a product that isn't already present within the market, to give your solution a unique selling point and make it stand out to potential customers.
As part of this step, you may also have to explain your research and raise any initial concerns to the project stakeholders to make sure that you are all in agreement before proceeding with the next phase. It's important for every design engineer to remember that others who are involved in their projects may not be engineers themselves, so you would need to be prepared to provide clear feedback without using technical language.
Kay's skills checklist: research and investigative skills, conveying technical information to mixed audiences, written and verbal communication.
Ideation and development
Again, during the ideation phase of design, you would probably be working within a wider team of engineers – perhaps with expertise across different disciplines – to come up with ideas that satisfy each of the design criteria. This would involve sharing ideas, critically analysing others' ideas and gathering feedback.
When designing any product or solution, it's also important for design engineers to keep wider contextual factors such as the environment, user preferences, local culture and habitat, etc. in mind throughout the process, to ensure that your output will be appropriate and accessible for every end user. Assessing the wider context at an early stage should also prompt you to think carefully about your choice of materials and where they are sourced, so that you can make sure your solution or product is sustainable, scalable, and profitable, as well as functional.
Kay's skills checklist: creativity, collaboration, critical analysis.
Modelling and simulation
Modelling and simulation involves using computer aided design (CAD) software to produce complex mathematical models of design ideas virtually, before a computer runs tests on them to gain an idea of how effective and workable the designs are going to be. Aspects of the model that can be tested virtually include how much weight a structure can carry, how much a structure might bend or vibrate under pressure, or how much energy a product design might use to function. Testing numerous designs with slightly differing features will help to determine which should be carried forward into later development stages. This is a crucial step within the design process, as it enables design engineers to narrow multiple ideas down, saving both time and costly materials needed for physical prototypes.
Kay's skills checklist: mathematical knowledge and application, computer and CAD software literacy, technical skill.
Prototyping and testing
Building and testing prototypes of the design before developing the final thing is another important part of a design engineer's day-to-day work. Not only does this provide the team with a chance to revisit the initial criteria to ensure that each point has been met, but it also allows for an opportunity to test the solution in a real-life environment and check for any faults. As a design engineer, you'd probably encounter at least some instances where a design needs modifying to overcome a fault. Whilst revisiting the ideation stage together with your team, it is also important to report your progress and findings to the relevant stakeholders and advise them of any anticipated delays to the schedule as soon as you're aware of them.
Kay's skills checklist: Practical making skills, problem-solving, and the ability to adapt to changes.
View this post on Instagram
Are you keen to become a design engineer? Find out more about our Global Design Engineering degree programmes.