All about project-based learning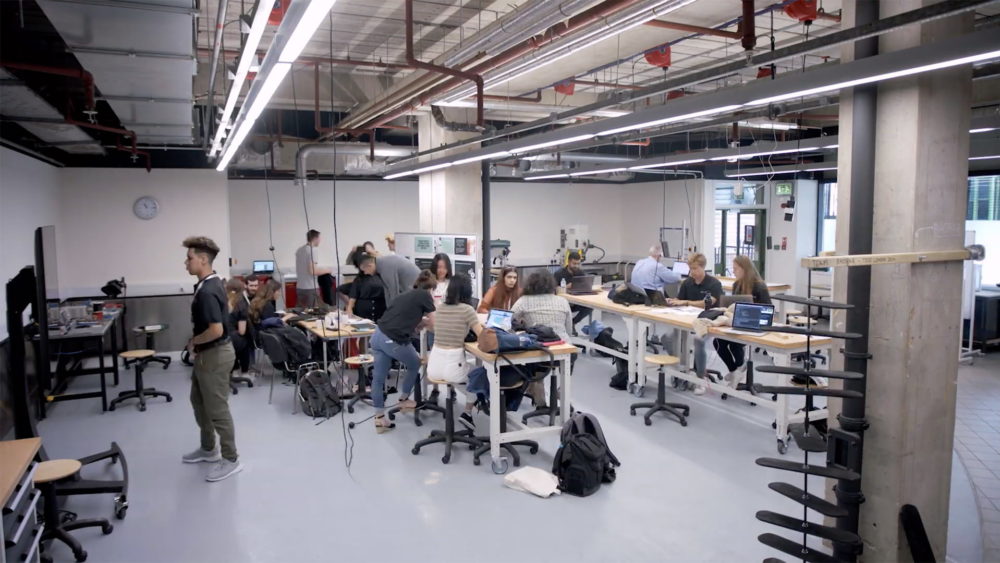 At TEDI-London we deliver education through projects rather than in lecture halls. Project-based learning means learning through exploration: you will be given a meaningful challenge, question or problem, and will tackle this over an extended period of time (normally 10 weeks for group projects, or 20 weeks for individual ones). This will involve you investigating, responding and finding an engineering solution to the question or challenge set out.
But what are the benefits to learning in a project-based way versus traditional lecture-style learning? At our recent Could you be a future engineer? event, three of our summer school students, Sofia Colaco, Zemzem Sonmez and Kelsey Boos, reflected on their experience of this style of learning during their time with TEDI-London.
It promotes curiosity
Sofia, a Mechanical Engineering student from Portugal, feels that the project-based approach of starting with a question first is key, as it made her think more deeply about knowledge and learning:
"If someone just tells you something, you will often forget it the next day. Whereas if they ask a question first, you think about it more. Then, if they give you the answer, you're a lot more likely to memorise it.  Project-based learning builds your curiosity – you're the one trying to get to an answer and come up with the quickest or most creative way to do so. I would love to have a full project-based learning experience!"
You draw on the skills of team members
Zemzem, who has a non-engineering background as a Chemistry Master's student, feels that the team aspect of project-based work was a big advantage:
"One of the key benefits is that you are placed with different people with a lot of different skills. When tackling a project together you are pulling resources from people with very different talents and you then gain those skills from working that way.
"You get more invested and find things more geared towards your project than you would do in a more traditional lecture."
Communication is key
Working as a team requires adapting your communication and organisation style to best cooperate and tackle a task collectively. Kelsey, a biomedical engineering graduate, reflects on this challenge:
"When you're initially thrown in with a group of people you don't know that well or how they best communicate, it can be hard. There are often people who want to take control and do everything in a group. So it's important you are communicating effectively and setting and distributing tasks for everyone in the group."
Communication is a skill employers are actively looking for in graduates. 26% of UK businesses said transferable skills (including: emotional intelligence; complex problem solving; creativity; communication; collaboration; leadership and management; and resilience) were lacking in current graduate applicants. In the LinkedIn Global Talent Trends Report, 92% of professionals say soft skills matter as much or more than hard skills.
Industry insight is invaluable
At TEDI-London we will be engaging with industry to set projects. Along with our academic staff, we'll have industry experts co-delivering projects, working alongside and mentoring you. They will give a real-life context and tell you how a project will be used, and is relevant, to what their company is doing and how it will make a difference.
"Individuals from industry, as well as other educators, gave us opinions that we needed to consider such as ethical considerations [when creating a prototype]." Kelsey explains.
At TEDI-London everyone will be learning together in a way that is fun, fast-paced and geared towards making a real difference. There will be workshops to introduce you to topics, pop-up tutorials, and your project-based learning will be supported by our virtual learning environment – which we call the Learning Tree!
In the next of our blogs about project-based learning, we will talk to curriculum developer Professor Mike Bramhall about what type of projects students will work on at TEDI-London.