Well done to our Thinking Ahead: Get Engaged! May winners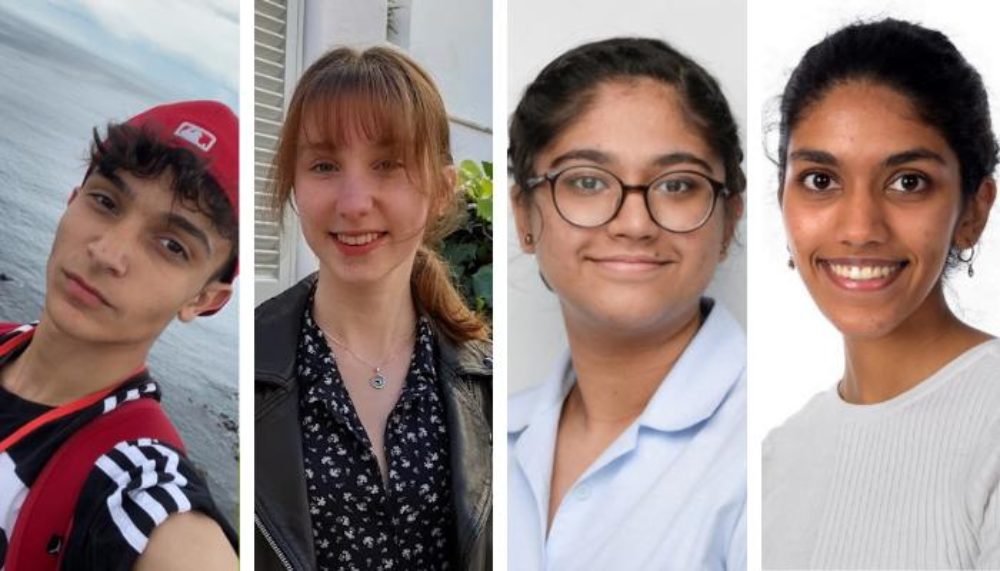 We are very pleased to announce the winners of our May 2022 Thinking Ahead programme. Our latest programme saw 92 students – many of whom are aiming to begin university in September 2023 – participate in an online design challenge.
Designed to provide a taster version of the types of projects that TEDI-London students complete as part of their degree, participants were tasked with designing a prototype of a floating community structure which uses nature and water as its primary aesthetic. The structure had to meet the needs of a specific user group, encouraging them to visit and feel part of a local community. In addition to engineering a solution that would satisfy the immediate criteria, the participants were also required to consider other contextual factors, including sustainability and city planning. The design ideas could be submitted either individually or as team projects.
Over the course of the two-week programme, the participating students were supported by some of our industry partners, who delivered virtual talks and workshops on a variety of related topics, including city planning and restoring ecosystems in urban areas. This introduced them to some of the steps taken by engineers in the workforce for comparable projects, encouraging them to consider every element of design development and adopt similar thought processes. Participants also had access to online learning materials to work through, which they could then discuss with supporting industry partners and TEDI-London staff. This helped them to gain a better idea of whether the TEDI-London style of teaching would suit them when they reach undergraduate level.
We were also very happy to receive support from some of our industry partners to judge the submissions. The 12 shortlisted presentations were delivered by the students to Matthew White, Prototype Solutions Engineer at Ogle Models & Prototypes, and Nabih Asif, STEM Activity and Schools' Liaison Officer at TEDI-London. Matthew and Nabih decided the result based on how well the projects met the design brief. We are excited to announce three Thinking Ahead winners across three categories: the BEST ENGINEERED SOLUTION, the MOST SUSTAINABLE SOLUTION and the MOST CREATIVE SOLUTION. Each of the winners will receive a TEDI-London letter of recommendation as well as a coaching session with an industry professional.
Nikan Hoorijani
Nikan's design, a community garden for sufferers of depression and anxiety, won the BEST ENGINEERED SOLUTION title. His design was carefully considered, with numerous safety factors calculated, including which shapes are strongest, how much weight the structure would be able to support and the buoyancy of his chosen materials. Nikan also created a cardboard model of his structure to demonstrate what it would look like and how it would function. Meeting the needs of its users, the structure features an indoor garden within a glass dome, that can be enjoyed in all weather conditions. Users can look after their own plant to help provide a sense of purpose, as well as using the space to socialise with others, providing a supportive community and sense of belonging.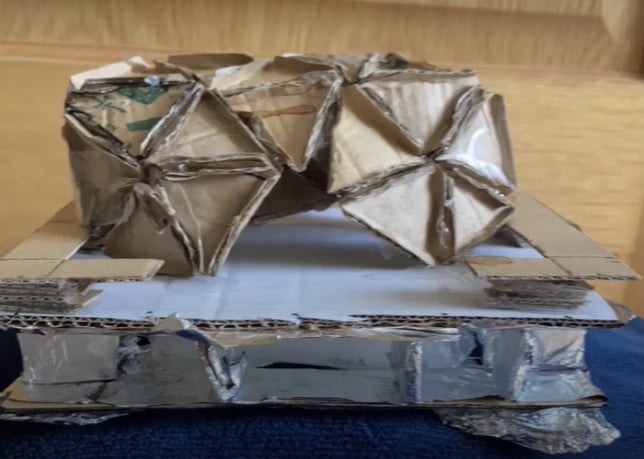 "I came across TEDI-London's Thinking Ahead programme and thought it would be a great way to challenge myself and try something different. I most enjoyed constructing my prototype as well as creating a presentation where I could explain my idea and the steps I took when developing it. During my research, I gained a very in-depth knowledge of buoyancy and Archemedes principle. Working on the physics behind my structure's safety and functionality was very interesting, as I loved applying the theory to a real design and figuring out how to enhance it wherever possible."
Hollie Cubbon
Taking first place in our MOST SUSTAINABLE SOLUTION category, Hollie designed a community space featuring both an indoor social area and a garden walkway. To achieve both a striking and nature-inspired appearance, she opted for a nest-like design for her structure. She carefully considered which materials should be used to build each part of her structure to make sure it would be long-lasting as well as sustainable. She also determined how the functionality of the community space would run as efficiently as possible; whilst solar panels power all the lighting, the sloped roof allows for rainwater to be collected and used to water the gardens. Hollie gave particular focus to those with Autism Spectrum Disorder (ASD) whilst designing the structure and ensured that its users would feel safe and supported thanks to the inclusion of soft lighting, sensory therapy boards and a transparent floor to observe the marine life below.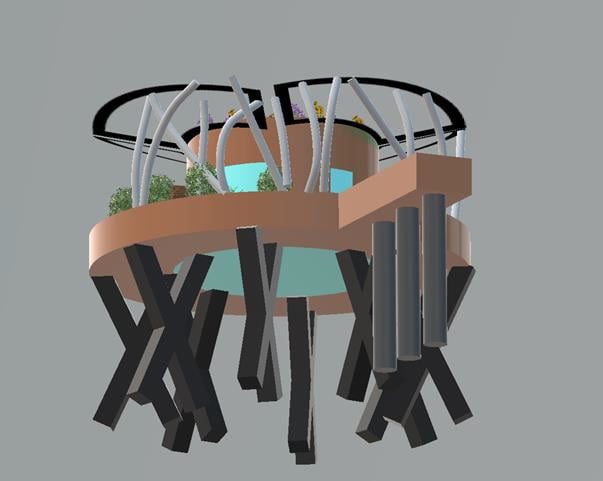 "The Thinking Ahead project was a great opportunity to channel my creativity and I enjoyed the freedom to interpret the brief and explore different design options. I found it particularly interesting to design for a specific user group and overcome the challenges surrounding their requirements. The learning modules provided in the initial stage of the program were very informative and I enjoyed working through the theory modules – particularly the one about city planning, where I learnt the basics of urban development and how to create a good public space. One of my favourite parts was hearing from industry experts. Emma Crichton's talk about what it means to think like an Engineer was inspiring and gave an insight into how the industry is changing."
Manahil Zaheer and Kiara Kulkarni
Winners of the MOST CREATIVE SOLUTION, Manahil and Kiara designed a community social space using aluminium, recycled glass and pressure-treated wood. The team carried out research to learn how to generate power from still water using a turbine, enabling the structure to run efficiently. Designed to support those facing loneliness and social isolation, the structure acts as an accessible area for people to socialise, participate in activities and observe the local wildlife. The team also considered how to make the structure an aesthetically pleasing and calming environment, choosing to include a central tube for water flow, glass roof panels and an outdoor terrace with potted plants.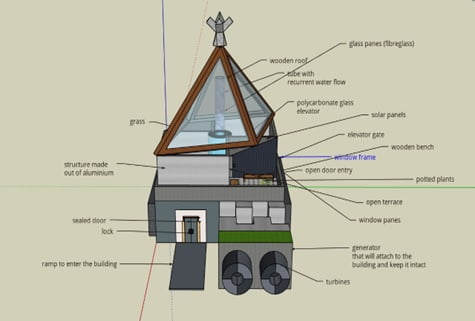 Manahil said: "While completing the project, I learned how to push myself to design something that I would not usually do or think about. I learned about the different things I need to take into account when designing a structure, which past projects I could take inspiration from and about new engineering principles. I am interested in teamwork, I like product design and find it exciting, especially from an engineering perspective."
Kiara said: "Thinking Ahead gave me the opportunity to build a turbine structure from scratch and display my ideas to the judging panel. I had a lot of fun creating the structure model and incorporating my knowledge of different materials and architectural plans. The programme provided engineering experience and helped me to understand how breaking down problems and solving them step-by-step in line with a design brief can help us achieve better outcomes. I want to be an engineer because I think that engineers are fundamental in addressing the problems humans have already created and preventing new ones from occurring."
Want to take on an engineering challenge? Find out how to join our next Thinking Ahead programme in October.