Sixth Form students tackle engineering challenge at TEDI-London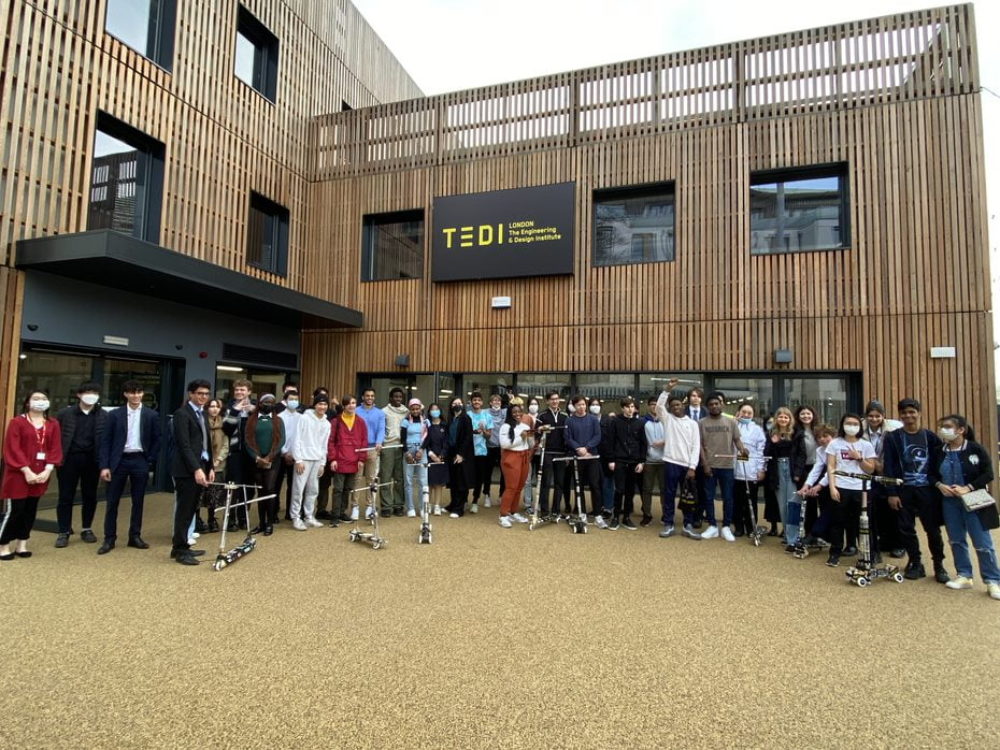 Last week, we were delighted to welcome over 40 Year 12 students from seven sixth form colleges within the Duke's Education group onto the TEDI-London campus as part of their 'Sustainable Careers Week'. During their visit, the guests had the opportunity to discover what it means to be an engineer and carry out a mini design challenge.
Upon arrival, the guests were split up into small teams – each comprising of students from different colleges – and viewed a presentation delivered by TEDI-London staff, to learn about how important it is for engineers to consider sustainability during product design and development. For instance, choosing materials that have suitable physical properties for the design, such as being strong, flexible or heat resistant, is important. However, they must also think about how long it will last, how sustainably it can be sourced and whether it can be recycled.
The scooter challenge
Following this, the teams were faced with the challenge of building a functional scooter out of newspaper, some wooden components, wheels and connectors. They were given a design brief and relevant information, which they received via our virtual learning environment. They were then provided with kits to design and build the scooters using a few key workstations:
1. Paper rod making: this involved creating robust components out of recycled newspaper. Using a rolling machine to compress each newspaper into a rod helped to increase its sturdiness.
2. Building: using a selection of tools and components such as saws, nuts, bolts, wooden connectors and wheels, the teams brought their design ideas to life.
3. Weight testing: once the base of their scooters had been built, the student teams placed them across raised blocks and applied weight to test their strength, with some even opting to stand on them!
4. Sensors: each team allocated one member to learn about different types of electronic sensors and how they could be used to enhance their products.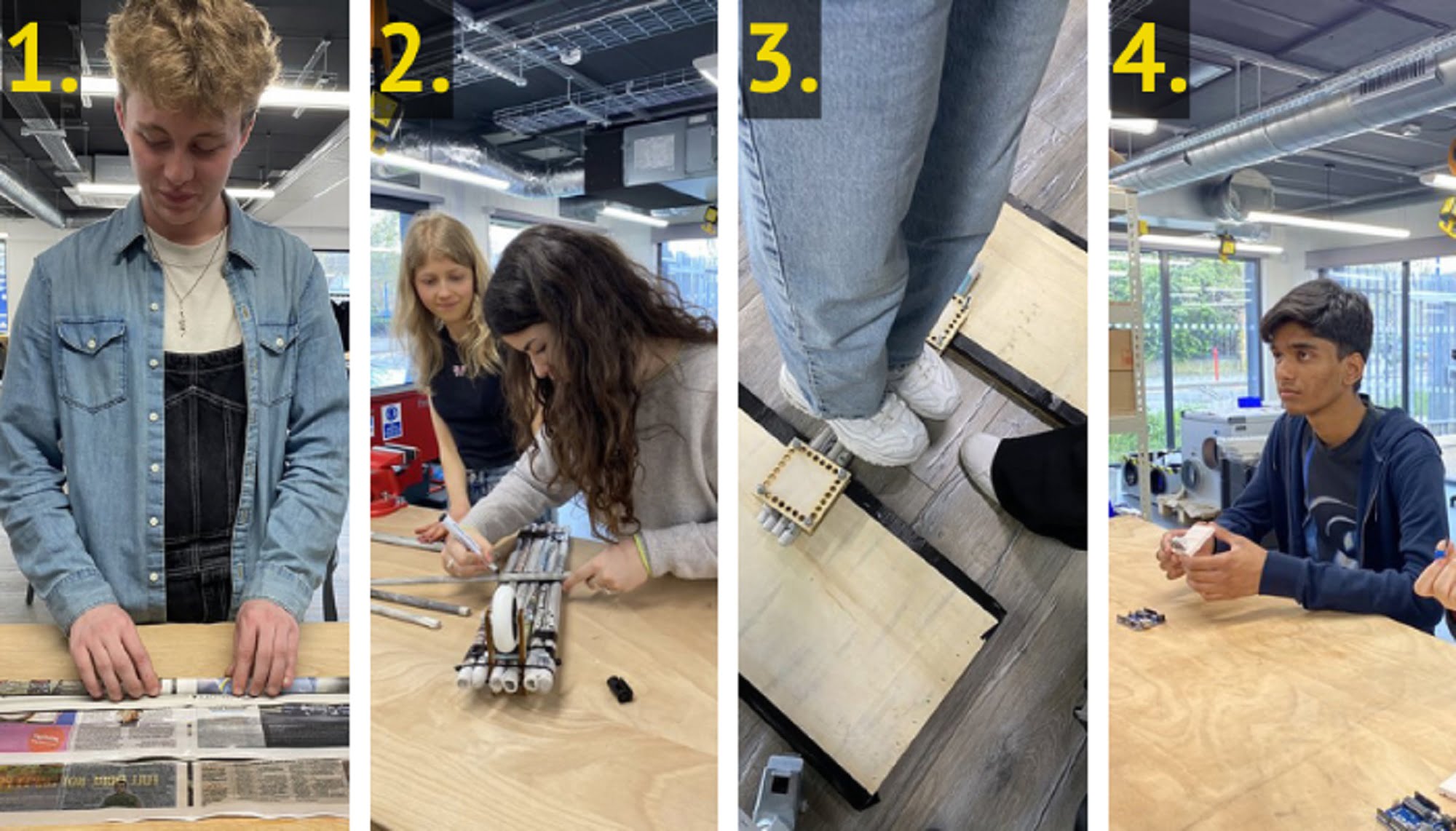 "It was a pleasure to see the students really engaging with the task we gave them and achieving such fantastic results. We designed the task to mimic the workplace; placing the students in unfamiliar teams and presenting them with a problem, design criteria and a deadline. We use this same teaching style with our own students at TEDI-London, so it was promising to see our guests rise to the challenge and prove themselves as future engineers!"

Professor Julie Bregulla, Director of Project-Based Learning at TEDI-London
As well as completing the design challenge, students had the opportunity to explore our purpose-built campus as part of their visit. During their tour, they were able to see the available machines, such as lathes, milling machines and 3D printers, and learn about how they work. The visitors also looked at some of the course-based and extra-curricular projects that TEDI-London students have worked on so far, including reverse engineering systems, robotics and a product prototype.
"Dukes Education's seven sixth forms (from London, Cardiff, Cambridge and Kent) were inspired by the environment, the faculty and indeed the project, when they visited the ground-breaking TEDI-London campus on 30 March. Students and staff all came away brimming with energy and enthusiasm after what one Year 12 participant called "the most stimulating school visit" they had ever attended. Designing and then building scooters from recycled paper required creativity, experimentation and collaboration in equal measure, and the profound hands-on experience was at the heart of Dukes' inaugural 'Sustainable Careers Week'."

Tim Fish, Director at Dukes Education Colleges
Interested in running an engineering-related event with TEDI-London? Get in touch with us.