Summer school 2023 wrap-up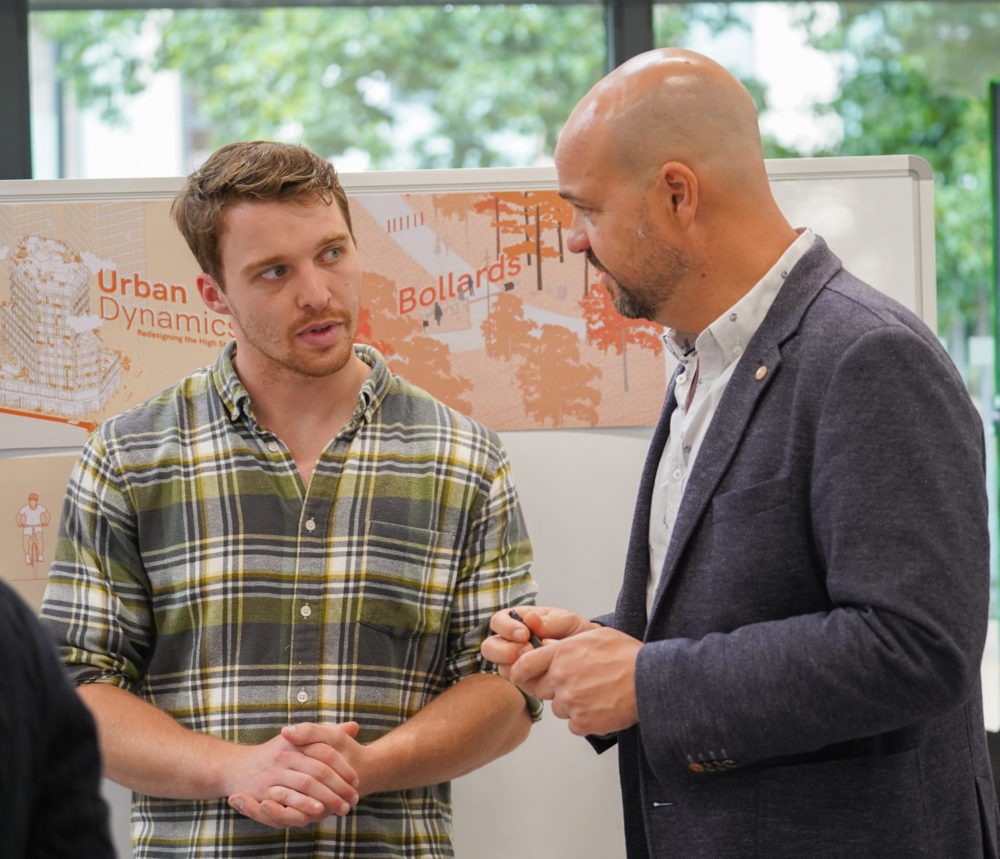 Last week marked the end of our 2023 summer school, during which nine student teams designed sustainable transport solutions to be implemented into British Land's Canada Water masterplan.
Their time at TEDI-London concluded with a Demo Day, which gave each team the opportunity to present their ideas and prototypes to their peers, industry partners, local community members and TEDI-London staff.
View this post on Instagram
Urban Dynamics
Taking away the most votes at Demo Day, the team developed a design for the new Canada Water high street, which will run between Canada Water and Surrey Quays stations. Their design was informed by their in-depth investigation of the effects of new infrastructure on the flow of people, cyclists, and traffic. With British Land intending to keep the high street car-free, the group used their research to design effective systems to safely enable the movement of both pedestrians and cyclists in the area.
The team found that accidents between pedestrians and cyclists in shared areas are 50 times more likely than road collisions involving cars. As such, they recognised the need to keep the two high street user types separate from one another as much as possible. Key features of the design included flexible infrastructure such as bollards, seating areas, and lighting that can be moved to allow for multiple layouts, as well as flexible LED light cycle lanes that allow for re-routing of cyclists along the high street during peak times, or when more space is needed for community events. The group proposed that British Land could use both real-time and predictive data to determine how the area could be set up at any given time.
Pillars of Canada Water
After identifying that there are areas outside of the new high street that visitors would be interested in seeing, the team developed a tour guide system for four additional cycle and walking routes stemming from the high street's location. Each of the routes were mapped carefully to follow a different theme: Parks & Nature, Art, Culture & History, Retail, and Food & Drink. The team developed a website to help promote these routes and to provide visitors with information about the different attractions. Through their solution, the group planned to increase footfall throughout Canada Water, in turn helping small business owners outside of the high street to thrive, improving safety and connectivity for the local community, and to boost the area's economy overall.
Buoy
In addition to being the destination of a new high street in the coming years, Canada Water is also home to residents of all ages, the Printworks, and TEDI-London university campus. With increased visitor numbers anticipated as a result of the Canada Water masterplan, the team focused their solution around improving the community's sense of safety and security throughout the local area – particularly after dark. As such, the group designed safety 'buoys' to be situated 50m apart, mapping out exactly where each of the 140 buoys would be situated. The group created a working prototype of their solution, which features motion sensor operated LED lights which illuminate orange when users pass, a help button that connects directly to Southwark Council in the event of an emergency, and a culturally significant design which nods to Canada Water's rich shipment and dockland history. As well as creating their design, the team also thought carefully about capital and maintenance costs, environmental impact, and the life expectancy of their product.
'Fun'nel Walkway
This team focused on improving connectivity between the existing Canada Water community and the new high street. Noticing that the high street will be situated at the edge of Canada Water away from other key areas, the team's idea was to implement an interactive smart walking and cycling road from the Printworks Park to the high street. Their objective was to safely guide people from all over Canada Water onto the high street, promoting connectivity, stimulating businesses, and encouraging engagement with the community.
The team carefully considered how to make their solution as interactive as possible, by implementing dynamic lighting to display shows and artwork when the nearby sensors detect motion and by incorporating music and nature sounds along the walkway to make it more interesting, encouraging users to return in the future.
Car Bad
Recognising that British Land's plans to implement more car-free areas might have an impact on some of the services that the residents are used to, this team decided to address the need for a way to implement car-free goods deliveries into the area. To achieve this, the team decided to leverage an existing solution – cargo bikes – to carry out the deliveries and developed a software programme to handle all the necessary logistics to make more effective use of the bikes, reducing the associated time and cost. Their digital solution included numerous useful features, such as a parcel scanning system and automated route mapper so that riders can carry out their work with greater speed and ease, as well as a parcel sorting conveyor belt so that each parcel can be easily allocated into different bike types depending on their weight and size.
In addition to the digital solution, the team thought carefully about where two delivery depots would be situated within the area that are accessible for motor vehicles and how the bikes could be effectively used when they are returning to the depots without carrying deliveries; supporting the council with rubbish and recycling collection.
L.I.T
With British Land intending to make the high street a cycle and pedestrian zone which also supports a bus route for accessibility, this team focused on designing a high street that could flexibility accommodate all the necessary modes of transport in a safe and engaging way. As such, their solution was intended to challenge the rigidity of single-purpose roads by implementing smart technologies such as Dynamic LEDs and AI assisted cameras allow for bus lanes, cycle lanes, and pedestrian areas to adapt to user needs and optimise safe traffic flow. The team developed a prototype of their lighting system, demonstrating how the lanes would change colour to warn cyclists and pedestrians when a bus enters the high street, allowing the street to switch from a pedestrian area to a road almost immediately.
The team also considered how their solution could be used to support additional events and activities that might take place on the high street, demonstrating how their system could be used for light shows and engaging visual displays, improving user experience and encouraging visitors to return in the future.
Smart Cart
Hoping to help the local residents of Canada Water navigate the new car-free areas with ease, this team designed a robotic system to allow users to transport large quantities of shopping from the local supermarket and high street retailers to their homes without the need for a car. Featuring sensors that allow the robotic trolleys to follow at a 1m distance behind the user, and a unique QR scanner to prevent them from following the wrong person, the team's solution allows local residents to have their shopping follow them throughout the Canada Water area. In addition, the team implemented a GPS system into each trolley so that they can automatically return themselves to designated trolley depots after use.
As well as building their working prototype, the team designed an app as part of the system, allowing users to book and pay for their trolley using their mobile phone, check how long they have been using it for, and find out further information.
Digital Playground
Intending to enhance the new high street's appeal to as many users as possible, this team designed a 'digital playground' to use projectors wired into lamp posts which display adverts, games, art and cycle lanes onto the ground. With high streets becoming less used in recent years, the team hoped to make the new Canada Water high street feel like more of an experience for users – somewhere they would want to return to again and again.
To further help achieve this, they implemented checkpoints at regular intervals along the high street where visitors can scan either a physical or digital card – depending on their preference – linked to a mobile app. Regular visitors can build up loyalty points and redeem rewards, such as money off local shops and restaurants, via the app. This not only encourages return visits, but also encourages users to support the local businesses in the area.
The Atmos
This team focused on encouraging users to visit Canada Water by public transport. With the main station in the area being accessible by both the underground and overground networks, they identified air pollution as a significant problem and potential deterrent for visitors. To overcome this, the group designed a personal air filter for use on the underground to improve air quality whilst travelling and created a working prototype to demonstrate its features. Compact and fully customisable, the filter also doubles as a fan that users would be easily able to carry or wear around their neck. The objective for the team would be to trial their product in the Canada Water area, before potentially making it available worldwide.
Interested in tackling hands-on projects like this one? Apply through Clearing to study at TEDI-London this September.