Meet our summer school 2022 industry partners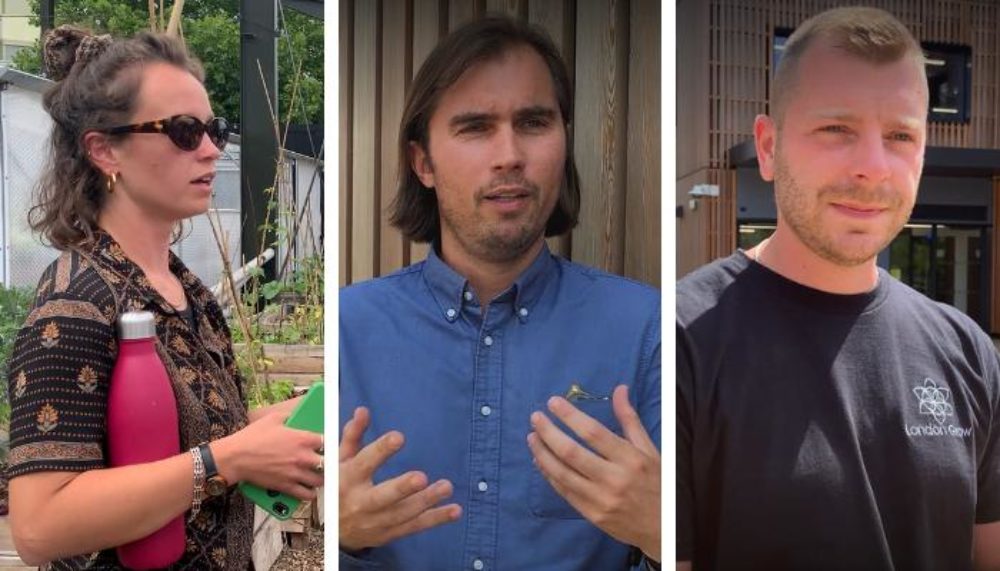 Our 2022 summer school is currently in full swing and, for the first time since 2019, is taking place in person at our purpose-built campus.
As part of the programme, summer school participants are learning about the opportunities and transferrable concepts of urban farming and how they could help our neighbour – Global Generation – make a positive impact on the community in TEDI London's home: Canada Water. Students have been exploring business concepts and approaches as well as the role of smart technologies, with the view to achieving increased participation in urban environments. Industry partners JLL and London Grow have been working with the students to help them understand the factors that have contributed to the rise in urban farming and the technologies that enable it.
Global Generation
Founded in 2004, Global Generation is a charity which focuses on bringing children and young people, businesses, residents and families together within the communities it serves. Centring around gardens and other green spaces, the charity provides hands-on, educational workshops. These include activities like growing food, carpentry, and cooking, which highlight the importance of nature and the ways in which our activities and eating habits impact the environment. Through these sessions, young people engage with other people and reflect on their own lifestyles, empowering them to be a force for good within their communities.
Paper Garden
Located right next door to TEDI-London's campus, the Paper Garden is Global Generation's recently opened project and is working to encourage community ownership of the public realm within Canada Water. With the Canada Water masterplan underway, the local area is seeing lots of change. The Paper Garden is helping to engage the local community to take ownership of a local project and contribute to the development in their own way. Since the start of 2017, the Paper Garden has welcomed more than 3,500 visitors – a mixture young people, local residents and businesses.
"Working with the TEDI-London summer school students has not only opened our eyes to the creative and innovative world of engineering but is also inspiring us to think about the garden in new ways. The students are visiting and engaging with our young people, inspiring them on their own social action journeys and revealing the possibilities for themselves and their communities. It is a pleasure to see the students responding and adapting to the needs of those helping to build the Paper Garden."
Emma Trueman, Paper Garden Manager at Global Generation.
JLL
Working as British Land's strategic advisor for the Canada Water masterplan since 2015, JLL has kept sustainability, health, and wellbeing at the front and centre throughout the process.
As part of our summer school, Michael Davis – Head of Future Studio at JLL – spoke to students about vertical farming and explained how it can help to solve some of the urban challenges we face. For instance, it allows us to grow food that not only takes up significantly less land space, but also indoors within urban areas, reducing the transportation distance and, in turn, the carbon footprint.
"Being involved in TEDI-London's 2022 summer school has been a very rewarding experience for me. Urban farming requires so much thought from a logistical point of view, not to mention the need to develop tailored solutions so that each project's specific criteria are met. Creative thinking is a key skill for engineers, as it helps them avoid adopting a one-size-fits-all design approach across multiple projects, particularly if factors such as user groups or budgets aren't the same. It was really interesting to see a group of optimistic, talented individuals from all over the world rise to the challenge. By pooling their knowledge and experiences of different geographical areas, they were able to consider how delicate ecosystems around the world have unique needs."
Michael Davis, Head of Future Studio at JLL.
London Grow
Focusing on both urban areas and places where growing crops is difficult, London Grow was founded in 2013 and works with businesses and communities to help them grow their own food. In doing this, the team provides products and solutions to help their customers grow as sustainably as possible. From nutrients and tools to lights and even grow tents – one of which has been set up on the TEDI-London campus. Our summer school students have been able to draw upon the London Grow team's expertise over the last couple of weeks; not only have they received a masterclass on urban and vertical farming, but they have also been able to learn more about sustainable urban food growth by doing it themselves using equipment from London Grow.
"It has been great to work with TEDI-London and its summer school students, especially given the unique perspective they bring as a result of being from different countries. The main topic we've focused on is working out how to achieve the most plant growth using minimal water and electricity, which has sparked conversations on how to maintain an even flow of water between the pots, as well as using solar panels to generate the electricity needed to support plant growth. The teams were quick to pick up the concepts and were able to integrate them into several unique potential solutions. I look forward to seeing their final projects and hope to collaborate with TEDI-London again in the future."
Vlad Petryk, CEO of London Grow.
Want to learn more about TEDI-London's involvement with industry? Read about some of our other industry partners.