No maths A-level? No problem!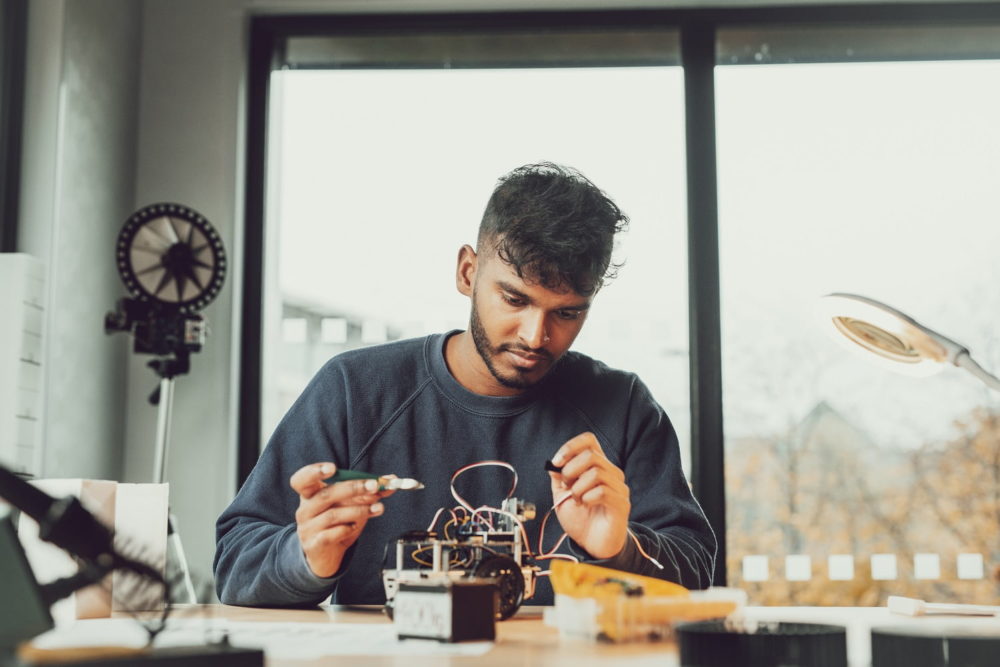 We're delighted to have launched our Maths Refresher course, designed to give applicants who have not studied maths beyond a GCSE or equivalent level the opportunity to get into engineering. This upholds our vision of bringing more people into engineering to diversify, and ultimately improve, the industry.
About the course
Based on Khan Academy, our Maths Refresher course is delivered remotely using an online learning platform and covers four key topics that are central to design:
2D and 3D shapes
Playing with equations
Visualising data
Combining topics to solve problems
Study time consists of 3 hours of learning materials per topic, – including an assignment for each – followed by a one-hour open book test. The TEDI-London team is also on-hand to support applicants and respond to their questions as they work through the course.
The course is designed to familiarise potential students with using maths to develop their design thinking and solve engineering problems. We also want to make maths more visual and demonstrative of what it represents. For instance, showing with a graph or visual model how changing an equation can change the properties of a shape, or the trajectory of an object's path, to bring the maths behind it to life.
Translating maths into the material world is the key to engineering design and gaining this ability can transform individuals' understanding and perception of what maths is. Our Maths Refresher course aims to introduce this way of thinking to those that haven't previously enjoyed maths and open their eyes to a career in engineering – something they may not have thought was possible.
Removing barriers to engineering
TEDI-London stems from a vision of three founding partners – Arizona State University, King's College London and UNSW Sydney – to bring more diverse people into engineering. This refers to people of different genders, ethnic and educational backgrounds, but also to people with different skillsets, experiences and perspectives. Our founders wanted not only to make the industry more accessible, but also to ensure that it is better equipped to address the needs of our diverse society.
There are a few ways in which requiring applicants to have a high-level maths qualification presents a barrier to this mission:
Discovering engineering later: As engineering isn't generally a standalone subject that is delivered in the earlier stages of secondary education, young people may not be aware of what studying engineering looks like at this point in their lives and, most crucially, ahead of making subject choices. For some, maths might have been a strong suit without making the list of top three or four subjects. Finding out 'too late' to continue with maths shouldn't act as a barrier for potential future engineers.
International qualifications: Some international maths qualifications aren't considered to be appropriate equivalents to UK qualifications, like A-levels. This leads to international applicants being rejected from studying engineering in the UK, despite having studied maths to a high level. Our Maths Refresher course allows us to welcome international students, in the knowledge that their maths capability meets the requirements for our course.
Retraining as an engineer: Mature applicants may have decided to retrain as engineers, after having already progressed within a completely different career path. In some cases, they may have taken a maths qualification already, but lack confidence if their achievement wasn't recent. During their previous career, they would have developed transferrable skills that, combined with the Maths Refresher course, would make them a great candidate for TEDI-London.
"Shaping the Maths Refresher course has been really exciting, and I look forward to seeing how it will benefit some of our applicants. Whilst we've always provided an opportunity for those without maths backgrounds to study with us, this course will really help those that need that little bit more coaching and practice.
"Maths is one of many key skills needed in engineering; computer-aided design (CAD), prototyping and creative problem-solving are just a few of the others that our students need to thrive on our degree programme. Rather than requiring pre-existing knowledge, these skills are taught as part of our degree programme, as long as our students have the right aptitude, attitude and ability to learn and practice them. If this is true of these skills, it can be true of maths too." – Dr Kate Crawford, Senior Teaching Fellow at TEDI-London.
Learn more about our approach to maths and whether it could help you get into engineering.