How can engineers make us safer in our everyday lives?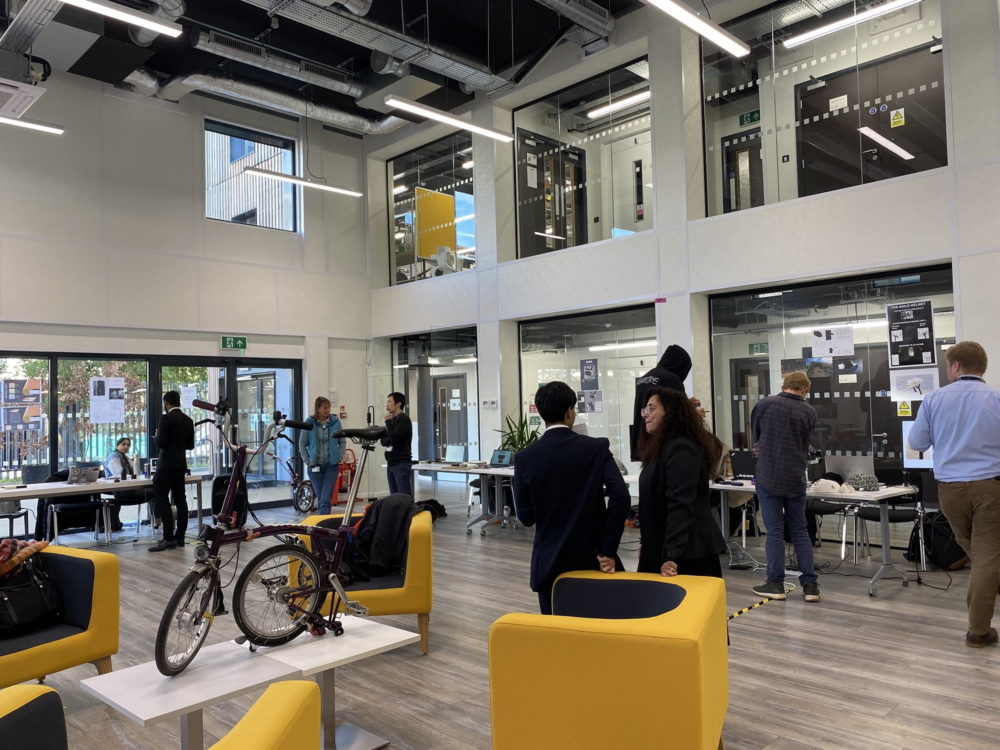 Whether it's adding a safety feature to a car, or designing an Xbox accessory to enhance a game, engineers have a big part to play in product optimisation. There is lots to consider when progressing from a design concept to manufacturing the real thing, including the characteristics of the materials used, how much it would cost to make, and how to manufacture at scale efficiently.
This term, second year TEDI-London students explored this process with Brompton Bicycle, one of our industry partners. Brompton bikes are innovatively designed to enable cyclists to quickly fold away their bikes when travelling on trains, buses, and taxis in between cycling. This helps them transition between different modes of transport more seamlessly when moving around cities. However, due to city roads being busy with larger vehicles, many people lack confidence – or even feel unsafe – when cycling in these areas.
The design brief: Brompton bike accessories
To combat this, our students were tasked with designing an accessory for a Brompton bike, that would help to boost users' confidence, and in turn increase the use of cycling as a mode of transport. Not only would this make it cheaper to travel around the city, but it would also reduce the vehicle emissions that contribute to climate change and air pollution. Each student developed their own individual design, before pitching it during their project demo day.
Many of our students created CAD models of their solutions, whilst others built working prototypes. In addition to deciding which manufacturing methods would be used to create 10,000 items, students were required to calculate how much the end user would pay for their product, how it could be built and powered sustainably, and how to make it aesthetically pleasing. Every design centred around one or more key areas:
Safety features
Cyclists often fear suffering significant injuries in the event of an accident. To tackle this, some of our students designed accessories that would keep Brompton bike users as safe as possible. For instance, Giacomo developed a prototype of an airbag; triggered by a shock sensor, the airbag would expand from the box situated on the handlebars and would be large enough to cushion the cyclist in the event of a crash, reducing the risk of injury to the spine, head, and neck. Caelan designed airless tyres as a preventative measure, as accidents are commonly caused by punctures. To do this, he designed multiple internal structures and digitally simulated which would best maintain the tyre's shape, as well as which would effectively absorb shock from the road surfaces to keep the rider comfortable.
Ease of navigation
Whilst sat-navs offer a great way to help road-users navigate unfamiliar streets, the lower position of the handlebars on a bike compared to the steering wheel of a car can make it tricky for cyclists to focus on the road and navigate their journey simultaneously. Even listening to directions through headphones can distract cyclists' attention from their surroundings. As such, some students opted to design accessories that would enable directions to be communicated through touch, rather than sight or sound. For instance, Uzair designed handlebars that inform users whether to turn left or right through vibrations under each hand. He also considered how his design could be developed further to communicate more complex directions such as roundabouts, such as both handles vibrating twice to inform the cyclist to take the second exit.
Other students designed accessories that would make it easier for the cyclist to determine what is happening around them, so they can brake or change course to avoid potentially dangerous situations. These accessories featured sensor technology that would alert the cyclist when another vehicle is becoming too close to them; Anya's watch accessory was designed to light up in different colours depending on the proximity of the other vehicle to the user, whilst Zainab's horn was designed to buzz at a higher frequency if the sensor detects a vehicle less than 50cm away.
Improving cyclist visibility
Whilst lights and hi-vis jackets make it easier to see cyclists on the road, it can be difficult for other road users to anticipate their next movements – especially in the dark or bad weather where hand signals are less clear. With this in mind, some students designed indicator lighting systems that could be mounted onto Brompton bikes, to help users communicate to others which way they're heading. Whilst Visha designed a device to project arrows onto the road surface, Justin designed a product to be placed under the saddle on the rear of the bike, with a screen to display arrows according to the direction of travel.
Bicycle transportation
Although Brompton bikes can be folded down, it can still be difficult to carry them around when not in use. However, the high cost of Brompton bikes and high theft rates mean that some users are reluctant to lock them in public places. As such, some students focused on designing accessories that would boost security for locked bikes, giving owners peace of mind when they do so. For example, Elise designed an integrated chain lock which would be built into the seat post; not only would the chains be difficult to break, but doing so would cause damage – and decrease value of – the bike itself, deterring thieves.
Unfortunately, theft is still a possibility, so to deal with the aftermath, Anjali designed a low-energy Bluetooth tracking device allowing users to locate their stolen bike. To keep it concealed, the tracker had to be small enough to place inside the main frame tube, where it would then be held in place with an expanding pulley to prevent it from falling out.
"Designing accessories for a Brompton bike was a really interesting challenge, mainly because our solutions had to be compact to fit onto the bikes, and avoid adding too much extra weight. I found the research stage the most enjoyable because some of the statistics around bicycle theft were really surprising, and definitely helped to spark the idea for my product."
Anjali, second year TEDI-London student
"I really enjoyed this project because it involved so much practical work, and the fact that we focused on a very relatable problem gave it a great sense of purpose and made me see how my skills could make a difference in the real world. Because we were working individually, I was able to practice my time management skills; I had to do everything myself, so planning each step carefully was important."
Stuart, second year TEDI-London student
Keen to work on projects like this one? Find out more about our Global Design Engineering degree and how to apply