Introducing our new Executive Dean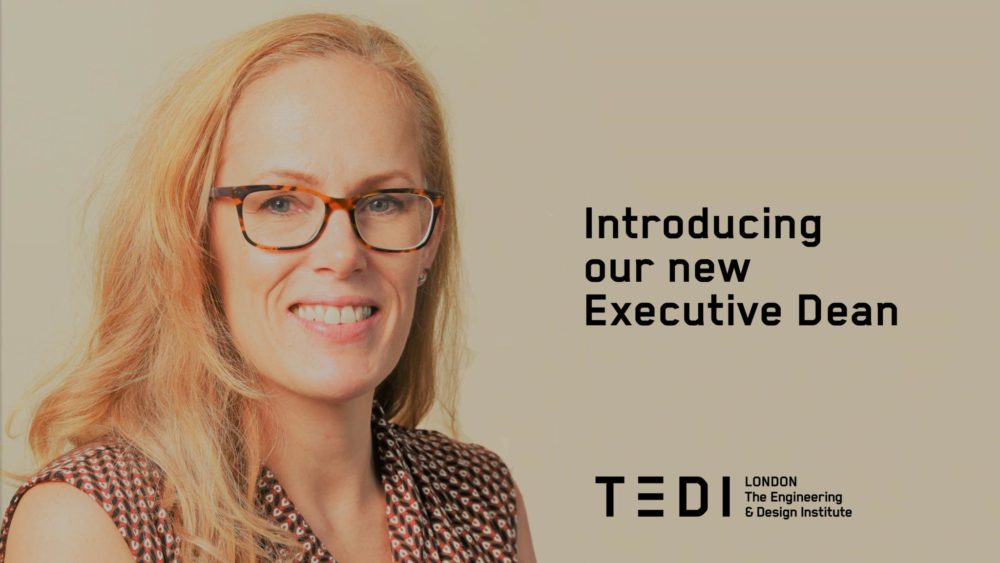 We are delighted to have appointed Professor Lisa Brodie as the new Executive Dean at TEDI-London. She'll be joining us on 1 January 2024, taking over from Professor Judy Raper, Dean & CEO.
Professor Brodie (BEng Hons MBA PhD PGCert CEng MIET SFHEA) joins from the University of the West of England (UWE) where she is currently Dean and Head of School of Engineering.
During this leadership she directed the design, development and introduction of a problem-based learning approach to UWE's engineering education, centred on the applied social responsibility of engineers, and worked in collaboration with architects to articulate and inform the vision for the £50 million engineering facility embodying this new engineering pedagogy.
An esteemed engineer and educator
Professor Brodie holds a long career as a professional engineer and has extensive cross-sector experience, including five years as a Senior Consultant in the aerospace sector.  She is a Chartered Engineer and a Member of the Institution of Engineering and Technology (IET) and is an active mentor in their programme, supporting engineers working towards their professional registration.
She was elected to the board of the Engineering Professors Council in 2017 and again in 2021, where she contributes to government white papers on engineering education.
Passionate about changing the face of engineering education, challenging traditional perceptions and tackling a lack of diversity in the profession, Professor Brodie was awarded the Enginuity Diversity in Engineering Award 2022.
Building on success
Professor Brodie's appointment signals a new era for TEDI-London, building on its growing reputation and success credentials as a new specialist provider for engineering education in London.
"It's an extraordinary privilege to lead an institution that is redefining the landscape of engineering education. I am deeply committed to our mission of fostering creative, diverse, and sustainable engineering solutions for the challenges of our time. TEDI-London is not just a place to teach and learn; it's a place to dream, tinker, and turn wild ideas into reality. I couldn't resist the opportunity to be a part of this unconventional journey, where we'll engineer the future while pushing the boundaries of what's possible. Let the unconventional engineering revolution continue!"
Professor Lisa Brodie, future Executive Dean at TEDI-London
Professor Brodie will be taking over from Professor Judy Raper, who has been Dean & CEO of TEDI-London since its incorporation in June 2019, and has been instrumental in the institute's inception and success to date. During her tenure, Professor Raper has overseen significant milestones including acquiring New Degree Awarding Powers, the development of TEDI-London's project-based, industry formed curriculum, the opening of campus in September 2021, gaining 'institute' status, and the enrolment of over 115 students across the current three cohorts to date.
"We're delighted to be welcoming Professor Lisa Brodie as our new Executive Dean next year! A driver for change in diversifying our industry and transforming how we prepare our future engineers for the workplace, her values and ambitions align perfectly with our own and that of our founding partners – Arizona State University, King's College London, and UNSW Sydney. We look forward to seeing TEDI-London continue to go from strength to strength under her leadership. We'd also like to thank our current Dean & CEO, Professor Judy Raper, who has achieved so much in TEDI-London's formative years and been an incredible inspiration to its students."
Peter Hansford, Chair of the Board of Directors at TEDI-London
We extend our many congratulations to Professor Brodie and look forward to welcoming her to TEDI-London!
Learn more about TEDI-London's Senior Leadership.