Employability and Skills week at TEDI-London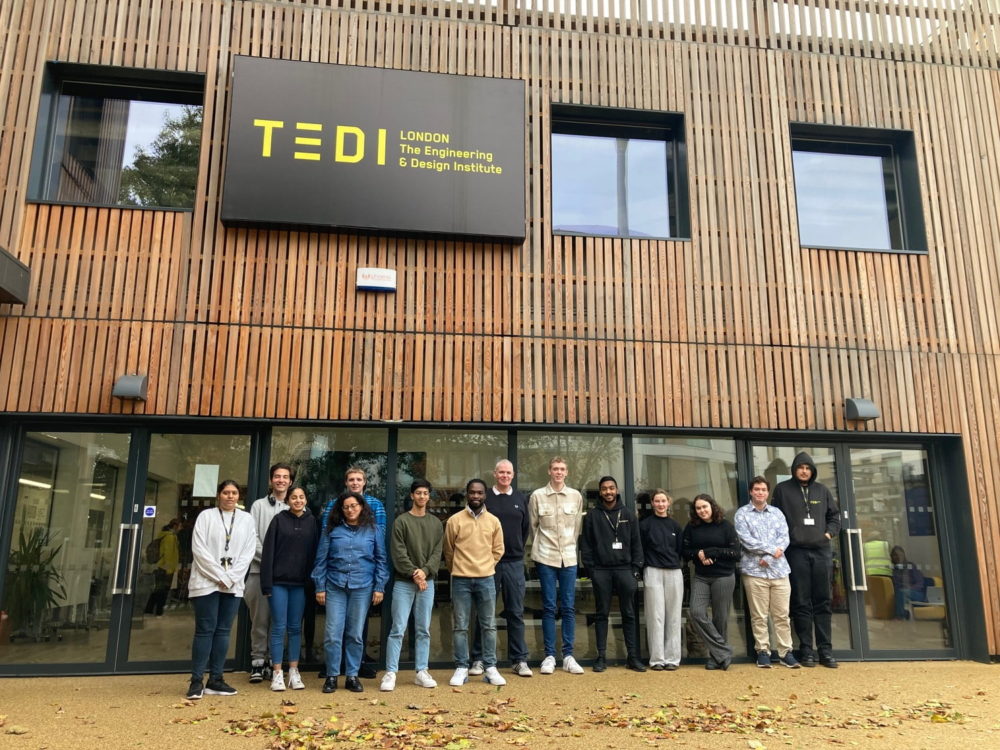 As you probably already know, at TEDI-London we teach engineering differently; through hands-on, group projects, instead of lectures.
Not only does it help those that take in information more easily when they apply it in a practical way, but it also paves the way for students to develop other key workplace skills, like problem-solving, teamworking, and presentation. 
To enhance our students' workplace skills development even further, we run Employability and Skills week each year. 
What happens during employability and skills week?
During the week, both 1st and 2nd year TEDI-London students take a pause in their project work to attend a range of workshops and sessions. Delivered by some of our industry partners, as well as both academic and non-academic staff, each session focuses on either an engineering-specific topic, or on an important workplace skill:  
Digital making

 

How to interview

 

Organisation and time management

 

Finance and profitability

 

How to write a cover letter

 

Using LinkedIn effectively

 

Exam skills

 

Digital collaboration skills

 
This year, students are also participating in sessions with representatives from numerous professional bodies within the industry, including the Institution of Engineering Designers (IED), Institution of Mechanical Engineers (IMechE), and Institution of Civil Engineers (ICE). During these, our students are learning about the professional bodies' roles within the industry, as well as how they can become student members themselves. This is very important information, particularly for those students hoping to earn their Chartership after graduation, because it isn't possible to become a Chartered engineer without having membership with an industry professional body. 
"I really enjoyed taking part in TEDI-London's Employability and Skills week and giving the students further insight into our industry. As we face global issues like climate change and ongoing challenges with energy cost and supply, the engineering industry has never been so important. It was great to see TEDI-London's students learning through interaction, and I look forward to delivering further sessions to help pave the way for more future engineers as they embark on their careers!" 

Lara Mallett, Business Development Manager at the Institution of Mechanical Engineers 
Closing the engineering skills gap
The Employability and Skills week is crucial for our students as they prepare for a career in engineering. Employers across every field of the industry have consistently reported that graduates aren't adequately prepared for the world of work. In fact, the IET Skills and Demand in Industry 2019 Survey revealed that 73% of UK industry employers have found that whilst candidates generally have good technical knowledge, they frequently lack the 'soft', or 'work-ready' skills they need to thrive in the workplace. The skills in question range from project management and commercial awareness to collaboration and even communication.  
Throughout the week, we're aiming to remind TEDI-London students of the importance of these skills, as well as giving them an additional opportunity to ask questions, gain valuable insights from industry partners, and – most importantly – focus on their own skill development.  
"At TEDI-London, we refer to our students as 'professionals in training' for good reason. It's vital for us to make sure that they not only learn the technical and theoretical engineering knowledge they'll need, but also that they graduate with a well-rounded set of skills that will prepare them for interviews, graduate roles, and beyond. Whilst our project-based teaching style helps them to develop workplace skills like project management and teamworking naturally, the annual Employability and Skills week gives students a better understanding of why these skills are so important for their futures, as well as providing dedicated time to hone them." 
Professor Kay Bond, Academic Director at TEDI-London
Learn more about how we work with our industry partners and what they have to say.