Introducing girls to engineering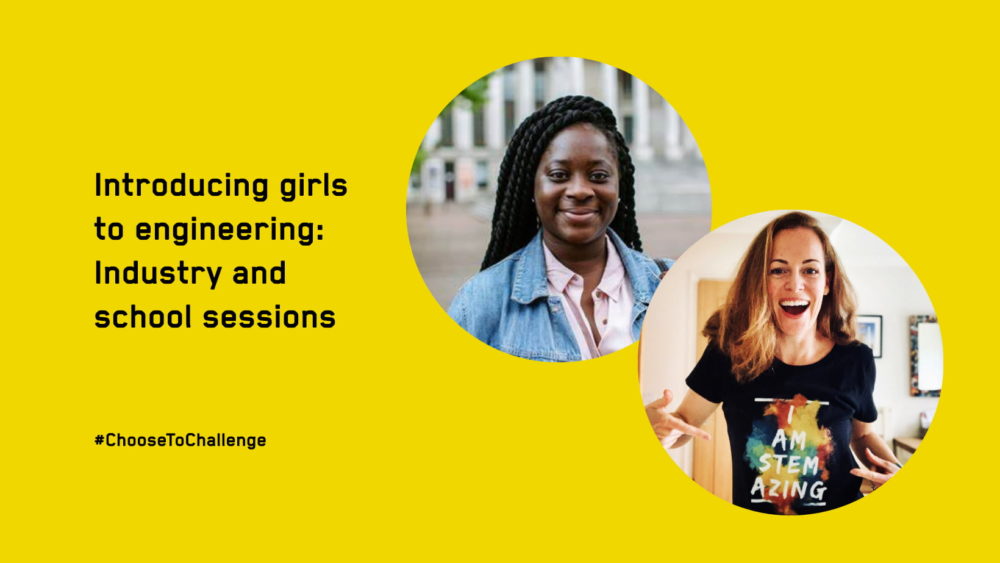 This month, TEDI-London is running a series of sessions to support the International Women's Month 2021 theme #ChooseToChallenge by connecting female engineering professionals with girls interested in pursuing a career in the field.
The virtual sessions aim to celebrate women's achievements and inspire school students to pursue a career in engineering, while also challenging issues including gender imbalance and stereotypes.
In our first session, Alexandra Knight, a Mechanical Engineer and Founder of Stemazing, and Mimi Nwosu, Civil Engineer at Sir Robert McAlpine, chatted to female school pupils about how they became engineers and the opportunities their careers have offered them. During the session the floor was given to pupils to ask Mimi and Alex questions around their journey as women in engineering. Here are just some of their great questions and answers shared during the session:
If you could give a young woman going into engineering one piece of advice what would it be?
Alex: I'd say having the confidence in yourself to go to networking opportunities and reach out and grow your network. Joining societies, like for example the Women's Engineering Society, is so valuable because you get to meet people who are outside of your normal bubble of work that are maybe going through similar things to you – be that positive or negative – and it's just a fantastic way to feel empowered and supported.
Mimi: I've got two: one would be to be a sponge. Absorb all the information that you can, so as Alex said, going to networking events and speaking to people and asking questions, because in engineering you are always learning. It's so important that you ask questions as it shows that you are interested and that you are willing to learn.
My second piece of advice would be to get a mentor. As well as supporting your endeavours, mentors can guide you in your career path and expose you to opportunities. For example, if there's a job opportunity they've heard about they can say 'Oh I actually know someone, Mimi for example is good at x-y-z'.
Do you face any inequalities in your job?
Alex: There aren't enough women in engineering – you don't always face discrimination but sometimes it is there in a male-dominated field, so organisations like the Women's Engineering Society exist to provide support and really help women be the best they can be. We need more women to become engineers because we know that diversity breeds innovation and the key thing for engineering is innovation!
We must be breaking down barriers, taking leaps forward in our designs and our ideas and how we implement and solve those problems, so that we can tackle some of the world's biggest challenges we have right now, of which are there are many. So, it's really important that more girls choose to go into engineering, and STEM more broadly.
Mimi: There is a disparity in the numbers of the Black, Asian, and Minority Ethnic communities in general in the engineering and construction industry. I've not personally experienced any discrimination and people respect me on site – they know I'm there willing to learn and that I am good at my job. But there are inequalities in engineering and construction engineering, and as a result there are groups and communities who are putting lots of time, effort and money to combat and solve this wider issue.
How do you keep up to date with developments in your field?
Alex: Engineering is so broad, there is not a person in the world that can be an expert in every field of engineering and what's going on! But the main thing is to keep interested and keep an awareness because then you can transfer good ideas from one area into another.
Once you get your engineering qualifications and you've got a bit of experience in industry or academia, you can then become a chartered engineer and continue learning. There are lots of networks out there to help you stay informed about what is going on in your field.
I like to keep up to date with what's going on through attending conferences, networks and reading interesting articles and that's really made quite easy for you once you become a member of these engineering institutions. When you join a company, they will often pay for you to go on training and keep developing yourself too, so you never stop learning.
What is the most challenging project you've worked on so far?
Mimi: My current project High Speed 2 (HS2) which is the new highspeed rail line from London to Birmingham. My job involves working on the concrete used on the tunnel, concrete used for the viaduct and the concrete used for five different ventilation shafts. It's challenging as the job is still relatively new to me, but also because it involves collaborating with over 2000 people on site to get the job done!
Alex: I think the most challenging project for me was in Thailand, and it's not necessarily because the engineering was the most challenging work I've done, it was more that the whole project in every aspect pushed me outside of my comfort zone.  It was the first massive project that I'd led, and it was in Thailand so there were cultural working differences that I wasn't used to. I also had a young baby who I had to leave at home, and I really struggled with that too.  But when the project was complete, I remember thinking 'wow I have actually done that, and I've made this difference and the company is now praising the work that we've done'. I learnt that things will be hard sometimes, but you can do them, and I had so much more faith in myself afterwards.
Watch the full inspiring session here:
About the engineers
Mimi Nwosu is an Assistant Materials Engineer at Sir Robert McAlpine working in concrete design. On projects she is responsible for making sure the concrete being used is suitable for use (strength, durability and the quality of the constituent materials to produce the concrete ). This involves testing concrete in labs and using that data to ensure it meet the project specification and the British Standards associated.
Alexandra Knight is a Mechanical Engineer. After many years working in consultancy engineering for a range of areas – from improving the asset integrity management of submarines, to designing novel rehabilitation equipment for injured soldiers – Alex now has her own business called Stemazing which empowers young people to pursue a future in STEM.
If you're a teacher and would be interested in a similar event taking place at your school, get in touch with our team hello@tedi-london.ac.uk.