An early look at our new campus…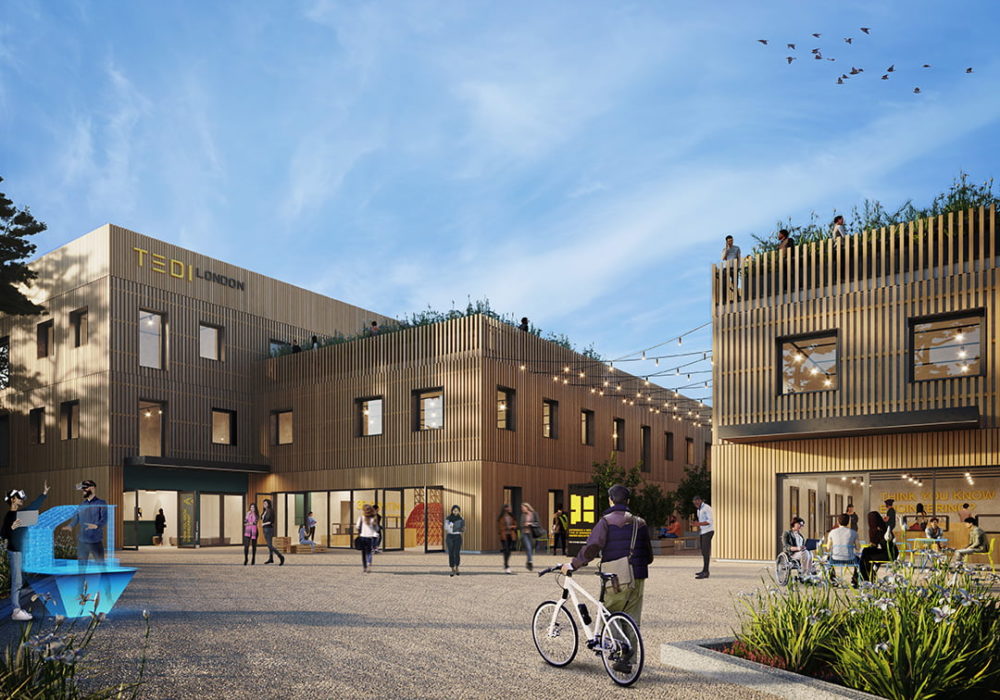 We are delighted to announce that Southwark Council have granted planning permission for our new campus on Quebec Way in Canada Water.
The building is a sustainable, bespoke, modular design that will house a variety of spaces to support students and staff to deliver a high-quality project-based learning experience.
Four of those spaces – which we call makerspaces – allow for different types of hands-on learning gained from our projects. From small prototyping and 3D printing through to larger scale equipment, the spaces will be set up to include everything needed to ensure the projects can be progressed from concept to delivery.   They are places for ideas, creation and, ultimately, making things.
The remaining spaces in the building include a double height cafeteria which will also be used for events and exhibitions, smaller conference style meeting and teaching rooms, a student common room, office space for the TEDI-London team and fantastic outdoor terraces with views over the Rotherhithe peninsula.
TEDI-London are pleased to have been supported in the development of this bespoke space by our founding industry partner and landlord, British Land, architects Hawkins Brown, modular suppliers Premier Modular and project managers Fullers Consulting.
Ground is due to break on construction in the New Year, with TEDI-London due to be given access to the building for fit out in April 2021 and the keys will be handed over in June.
Professor Judy Raper, TEDI-London Dean and CEO, said: "We're delighted to be setting up home in one of London's most exciting and upcoming areas. British Land's vision for Canada Water is a fantastic opportunity for TEDI-London and our staff and students to be part of a progressive, green, sustainable new urban space. Our students will be able to work on projects connected to, and for the benefit of, their local community, something which was a highly attractive proposition for us when choosing the location for our campus. British Land, as our founding industry partner, have supported TEDI-London from the very early stages and we are delighted to reach this important milestone for both organisations."
We will be updating our website regularly with new of the build and will arrange open days and campus visits as soon as we are safely able to do so. In the meantime, enjoy these CGI mock-ups based on the exact designs of our new campus, and take a virtual tour.