5 sustainability facts about our campus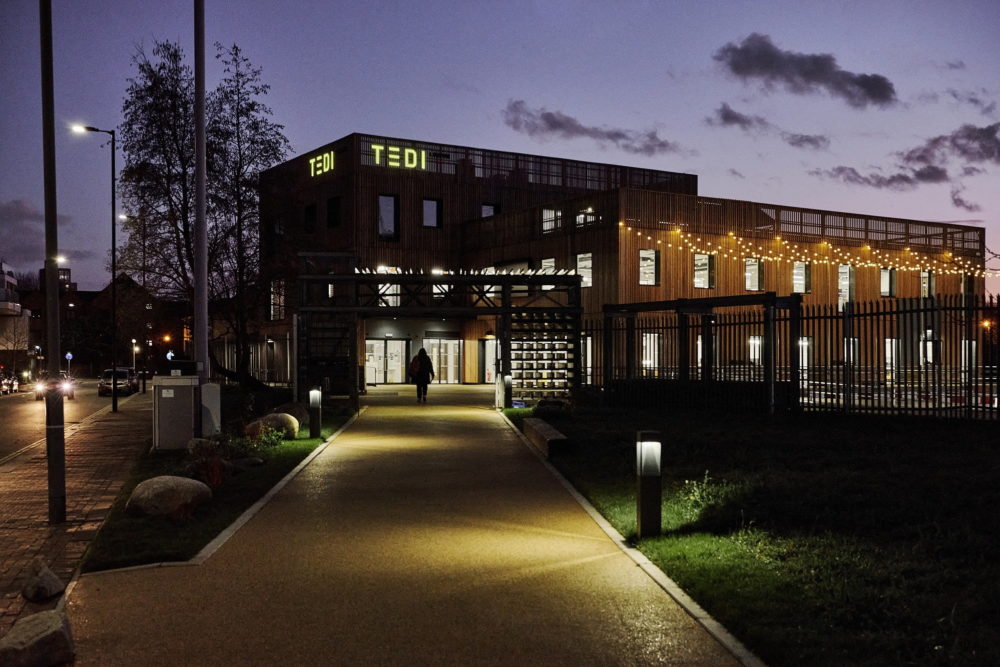 Featuring a rooftop terrace, social spaces and makerspaces with machinery and tools, the TEDI-London campus – designed by Hawkins Brown and constructed offsite by Premier Modular – was built for the specific purpose of delivering hands-on engineering education. But did you know that it has numerous sustainability features too?
1. Campus was built using reusable and recyclable materials
One day, once we have reached our full capacity of students, we will move into a permanent home as part of the Canada Water masterplan. When this happens, our current campus will be dismantled to make way for the new, longer-term building. To minimise our carbon footprint, we made sure that each of the building components can either be reused or recycled:
Modules: our campus is a modular building, made up of numerous individual modules slotted together. Off-site modular construction can reduce up to 90% of waste generated when compared with traditional construction methods. At the end of our current campus' life, each one can be taken from the building and reused either alongside other modules or as standalone units.
Pipes and ducts: the aluminium pipework and ducts which support the ventilation systems throughout the building can be recycled or reused in the new use of the modules.
Cladding: the building is clad in sustainably-sourced pine which can be recycled and put to a different use in the future.
2. Our building contains sustainable ventilation systems
To keep the building well-ventilated whilst also maintaining a consistent temperature, in an energy efficient way, several heat recovery ventilator (HRV) units have been fitted. A HRV is a device that replaces the stale air inside a building with fresh air from outside, whilst simultaneously recovering the hot or cool temperature that would usually be lost during the ventilation process. By having to re-heat or cool the building less consistently, we can save energy, reducing our carbon footprint.
As an engineering institute, sustainability forms a big part of our degree programme. As such, the HRV units – all of which are stowed on the ceilings – have been left exposed. This allows our students to understand the complexities of their own building as part of their learning experience, and the units themselves have even featured in numerous first year projects, including Reverse Engineering, Modelling & Simulation, and Prototyping.
3. We only use no-landfill furniture suppliers
From beanbags and sofas to workshop benches and desks, our campus has been kitted out to provide the ideal working environment for our students and staff. Whilst some of the furniture is new, we also have items that were purchased second hand, helping to cut down our demand for new furniture as well as preventing used items in good condition from being thrown away.
We also work exclusively with circular suppliers with both net zero and no-landfill policies, such as JPA. As such, when it comes to disposing of furniture, our supplier ensures that items are either disassembled for spare parts or diverted from landfill via materials recycling.
4. Our security gate and fencing were upcycled from old printing equipment
Originally running as a newspaper printing factory before being converted into an events venue in recent years, Printworks is a well-known part of Canada Water's history. In fact, before our campus was erected a year ago, the TEDI-London team started its life in the Printworks offices. As the venue is no longer used for printing, we were able to make use of some of the disregarded materials from the printing hall – such as the waste steel from the demolition of the Printworks Automated Reel store – to build the fencing and front gate that surrounds campus. Not only did this prevent these items from potentially finding their way into landfill, but it also meant that we did not have to outsource any new materials to keep students and staff safe and secure whilst they're working on campus.
5. Our surrounding area is home to wild plant life
In the area surrounding our campus, several trees were retained from the previous site whilst there are a few small gardens and green spaces containing wild plants and flowers, as well as large planters onsite. This helps the insect population to thrive and encourages pollination, therefore supporting the local ecosystems. As there is a no mowing policy for these areas, the wild plant life can continually grow. Outside the campus gates, these areas are open to the public to enjoy and observe the local wildlife.
We're also based next to the community Paper Garden, a charity project run by Global Generation. The project runs hands-on workshops such as growing food, carpentry, and cooking, to encourage members of the community to take ownership of one of the green spaces in their local area. Students from all over the world were tasked with helping to improve sustainability and community participation in the garden during TEDI-London's 2022 summer school.
Are you considering a project-based degree in engineering? Read more about our campus and local area.
Image by Francesco Montaguti.