What opportunities do TEDI-London students have outside the classroom?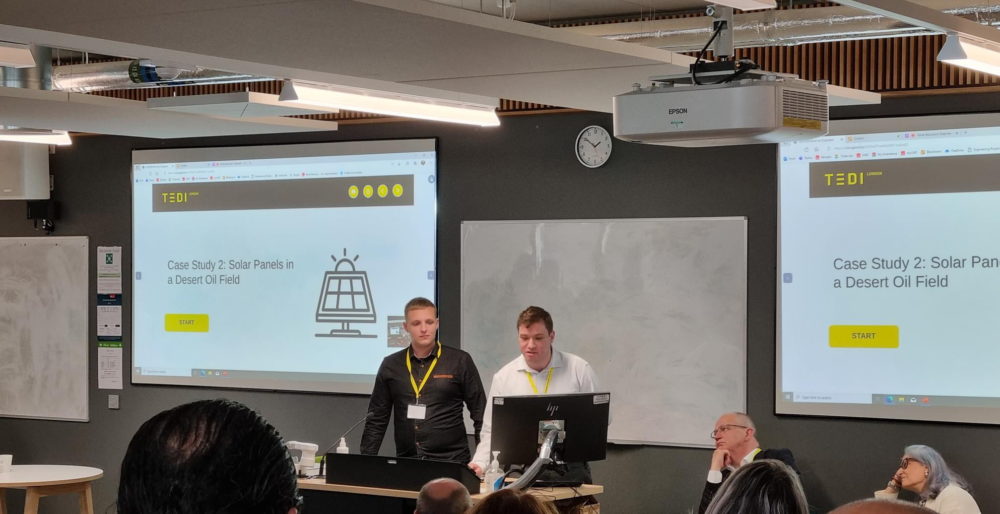 If you're thinking about applying to study with us, or even have an offer already, you might be wondering whether you'd get the chance to take part in additional learning and networking opportunities outside of our Canada Water campus. 
You'll be pleased to know that the answer is yes! TEDI-London students often have the opportunity to discover even more about the engineering industry on an extra-curricular basis. This is thanks to the strong relationships we've built with a variety of industry employers and experts, as well as our academic team members' collective involvement in numerous industry initiatives, charities and events. 
What is it like to take part?
Some of our students recently attended industry conferences alongside members of our academic team. This allowed them not only to learn about some of their degree course topics in greater detail, but also to further develop key workplace skills, such as communicating with others and delivering presentations. It additionally provided a valuable opportunity to meet key industry players, helping the students to expand their professional networks. 
Engineering Professors' Council, Annual Congress 2022 
Held in Bristol on 7-9th June, the conference involved discussions surrounding sustainability in the curriculum, engineering ethics, industry collaboration, STEM research and accreditation by professional bodies of engineering. The event was attended by several Keynote Speakers, who were joined by TEDI-London students Caelan Vollenhoven and Stuart Tucker as well as TEDI-London Professorial Teaching Fellow, Professor Mike Bramhall. 
Caelan and Stuart participated in a panel discussion chaired by Professor Bramhall, where they discussed their experience of using three case studies from an educational resource entitled 'Engineering Ethics: A toolkit'. The resource was produced by the Engineering Professors' Council for the Royal Academy of Engineering, with the aim to help embed ethical practice into engineering culture. The case studies were then adapted into TEDI-London Learning Tree nodes and integrated into our Global Design Engineering degree programme.
The students provided feedback on the toolkit, explaining how it has enhanced their understanding of the role engineers play within society and encouraged them to think more about the different types of ethical considerations that they themselves may have to make as they progress through their careers. Both Caelan and Stuart received lots of questions from the delegates, giving them the opportunity to respond and encourage further discussion. 
"I very much enjoyed taking part in the recent Engineering Professors' Council conference to discuss ethics education with the wider academic network. Listening to the industry experts themselves talk about such an important subject really boosted my knowledge, and to be able to share my own opinions and influence how engineering ethics will be taught in the future was a fantastic opportunity!" 

Stuart Tucker, TEDI-London student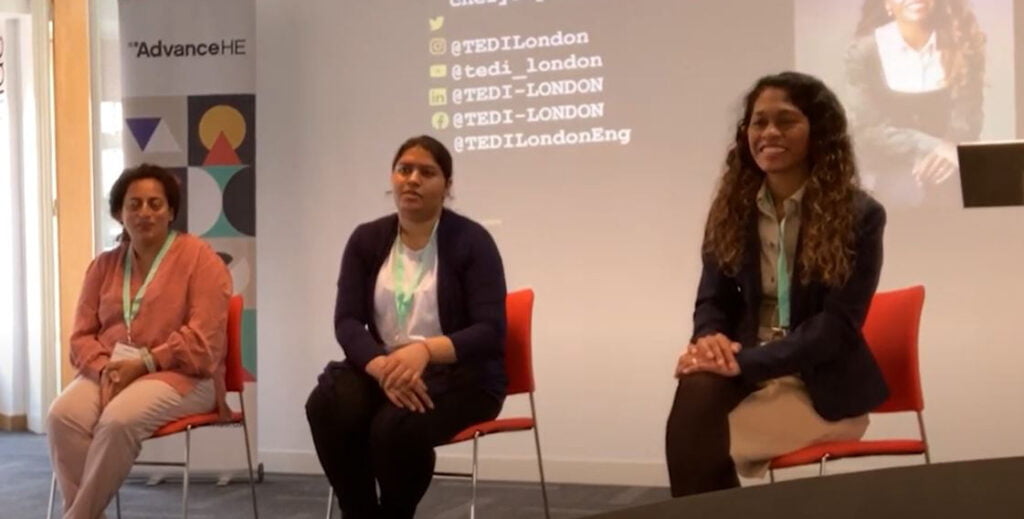 Advance HE, Curriculum Symposium 2022: Personalising the curriculum – quality assurance in a world where one size doesn't fit all 
Taking place in Leeds on 8th June, Advance HE's symposium 'Personalising the curriculum: Quality assurance in a world where one size doesn't fit all' was attended by TEDI-London students Anjali Sagar and Rozanne Goonewardene, as well as our Head of Learning Tree, Cheryl Pilliner-Reeves, who was invited as the Keynote Speaker.
The team attended the event alongside other guests in teaching practitioner roles, such as academic programme developers, department heads and learning technologists. The discussions held at the symposium were centred around alternative approaches to curriculum design and development, with the aim to encourage more educators to think about offering different teaching styles and methods that align with the preferences of a broader range of students. Explored through a mixture of presentations, workshops and Q+A sessions, key themes included: framing curriculums around student experience, working with industry employers to deliver course content and flexibility in education. 
Following the keynote delivered by Pilliner-Reeves, Anjali and Rozanne took part in a Q+A session where guests were given the opportunity to ask questions about TEDI-London's style of teaching and gain a better understanding of how our students learn through a blended approach where practical, project-based learning is supported by a purpose-built virtual learning environment. The students were able to share the first-hand experiences they have had during their first year, outlining how this approach has benefitted them and how it could be adapted for students attending other providers. 
"I really enjoyed representing TEDI-London at the recent Advance HE symposium and found it very interesting to learn more about the different approaches that other universities and HE providers take, and how this affects student experience. The event opened my eyes to the breadth of opportunities that will be available to me once I graduate, whether this is within the engineering workforce, teaching, or even HE strategy." 

Anjali Sagar, TEDI-London student