Well done to our recent Thinking Ahead: Build Green! winners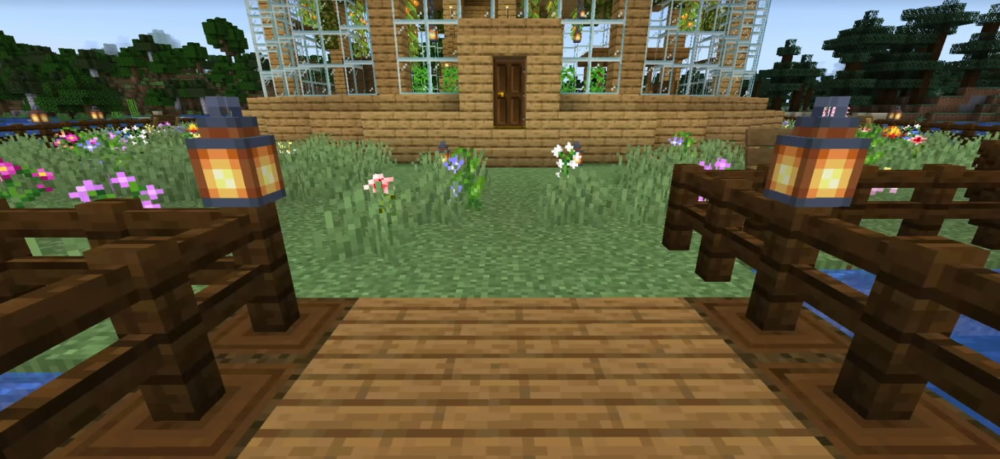 We're excited to announce the winners of our October 2022 Thinking Ahead programme! We enrolled a total of 165 students from 15 different countries onto the two-week online course, to complete an online design challenge.
Thinking Ahead is developed to provide participants with a taster version of the kinds of projects that comprise our Global Design Engineering programmes. As part of the design challenge, participants were tasked with designing a prototype of a floating community farm to be situated in Canada Water, encouraging visitors from the local area and catering for the individual needs of a specific user group. The design's primary aesthetic also had to follow the themes of nature and sustainability. As well as developing a solution to meet this design brief, the participants had to combine their knowledge from three areas of theory and apply them to their solutions. The areas of theory included art, product design, city planning, public health, STEM, and sustainability.
During the two weeks of the programme, participants attended online sessions to teach them more about the role of engineers, obtain support in their project work, and learn key presentation skills to help prepare them to communicate their design ideas. These workshops were delivered by either a TEDI-London team member, or one of the October programme's supporting industry partners: British Land, Engineers Without Borders UK, and SERO. Participants also had access to a range of virtual learning materials to work through, helping them to get a better understanding of whether they'd enjoy project-based learning at university.
We received more than 55 project submissions, of which 12 were shortlisted and presented in front of a judging panel. We're pleased to announce three Thinking Ahead winners across three categories. Each of the winners will receive a TEDI-London letter of recommendation and a coaching session with an industry professional.
BEST ENGINEERED SOLUTION
Varshnay, Neel, Ashlin, Kavel, and Daniel – aka Team Matrix – earned the prize for the BEST ENGINEERED SOLUTION with their lotus flower and lily pad inspired community farm. The team tested potential setbacks for their design, including a computational fluid dynamics (CFD) simulation to determine whether an additional barrier would be needed under the structure to prevent it from flying away, and a careful calculation to work out what the structure's maximum mass would need to be to keep it afloat. These tests ensured that the community farm would meet strict health and safety standards. Team Matrix designed their community farm to appeal to users suffering from anxiety and depression, with their research revealing that 914,000 adults of working age in London are affected. To help combat loneliness and other challenges faced by their user group, the team included several features in their design:
A stage for public events to bring to the community together.
Multiple tables for students to study in a peaceful area or for community picnics.
Astroturf to provide a soft area for relaxation and play.
Natural aesthetic to create a calming environment and relieve stress.
Different bins, e.g. recycling, to prevent pollution.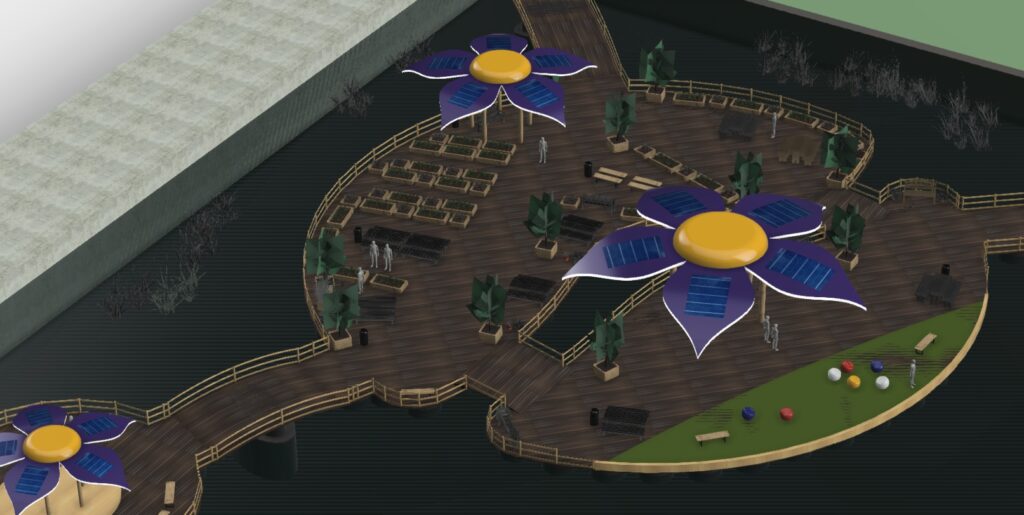 MOST SUSTAINABLE SOLUTION
Taking the top spot for sustainability, Luke designed a floating farm featuring both indoor and outdoor farming areas. To ensure that his design would be as sustainable as possible, Luke made use of multiple farming systems within different areas of the structure. For instance, an indoor hydroponics system keeps crops irrigated using rainwater collected from roof inlets, and a sump system allows both the water and the nutrients to be reused. This minimises the need for artificial fertilisers and reduces water waste. Luke also carefully considered which materials would be used to build his community farm sustainably, opting for natural and replaceable resources – such as bamboo – where possible, and using strong, corrosion-resistant materials – such as steel – for the structural aspects of the design, avoiding the need for frequent repairs or replacement.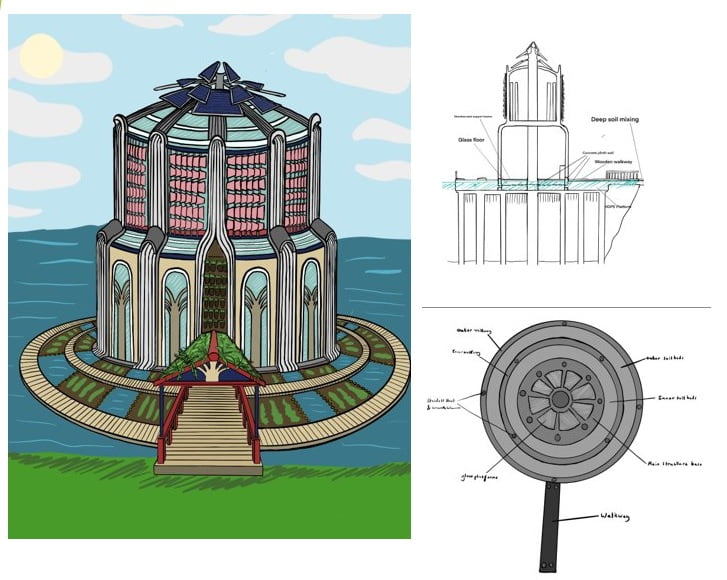 MOST CREATIVE SOLUTION
This prize was jointly awarded to two project submissions:
Tom was recognised for his creative approach to the challenge criteria; not only did his farm contain mini vertical farms to allow crops to grow within a smaller space, but also homed goats and chickens to produce milk and eggs for the community. Opting to design for school-aged children, Tom facilitated the production of multiple goods within his farm to educate the younger generation on farming processes, understanding where their food comes from, and sustainable eating. Tom also ensured that his solution would be profitable by suggesting that produce could be sold to local businesses hoping to source their food more sustainably, with the excess being donated to local food banks to further support the community. To help bring his vision to life, Tom developed a detailed model video of his design using Minecraft.
Also awarded for creativity, Zuhaib and Bernadette – aka Sherlock Ohms – tailored their design towards people in need and community groups. The farm's design was inspired by a honeycomb structure, which provides increased strength and stability. Within the multi-storey structure, each level serves its own purpose. Whilst one layer of the cylinder build contains a food donation, packing, and distribution area, others contain children's play areas, seating, and a library, allowing users to play, relax, or socialise in each dedicated space. Finally, three levels within the structure are dedicated to urban farms, where members of the community can plant and harvest vegetables. These are irrigated thanks to a gap in the roof of the structure, where rain is collected and distributed between each level.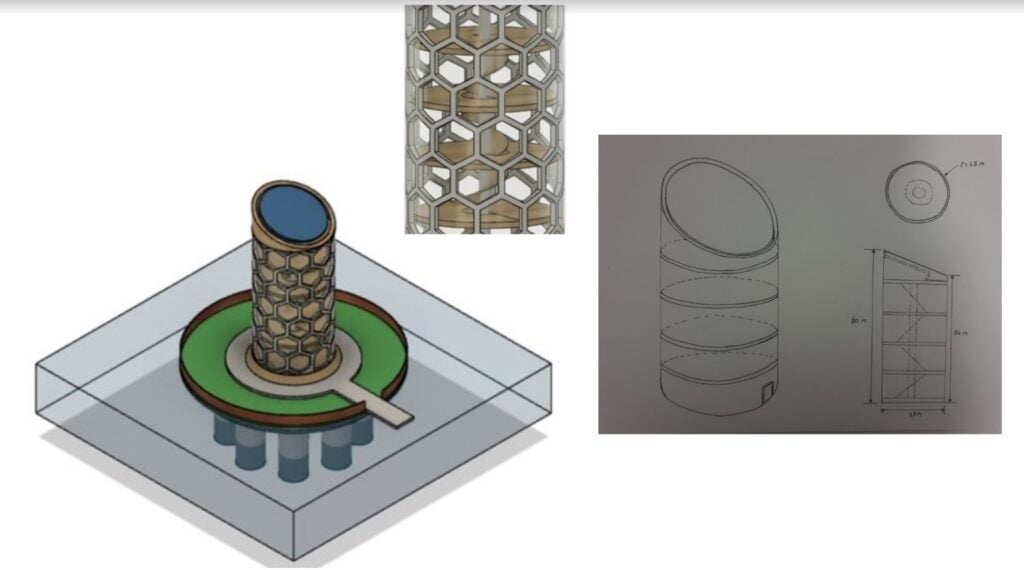 "My favourite part of the Thinking Ahead programme was working through the interactive theory content, as it helped me to build upon my knowledge of engineering principles. I was surprised to learn how important project management is within engineering, and how many challenges can arise when meeting design criteria and user needs. The experience confirmed to me that I want to become an engineer, as it will let me work on projects that have an impact on the real world, shaping future societies for the better."

Zuhaib, 2022 Thinking Ahead winner
Want to take part in our next programme? Learn about our February 2023 Thinking Ahead and how to get involved.