Welcome to our 2023 student cohort!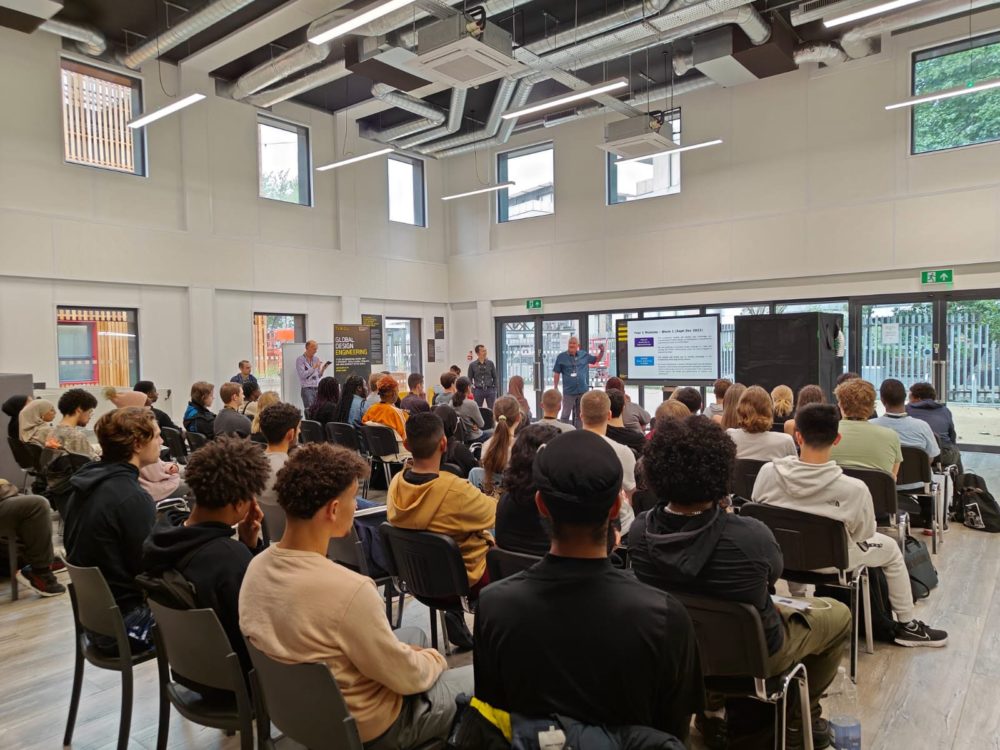 We're very happy to welcome our third ever cohort of students to TEDI-London this week, as well as welcoming back our existing students going into their second and third years of Global Design Engineering!
This year, we've welcomed almost 60 new students onto our Global Design Engineering programme, all of whom will learn through a project-based curriculum to help them develop key workplace skills such as end-to-end project management, teamworking, and commercial awareness, as well as the engineering knowledge they'll need to thrive within the industry once they graduate. Maintaining the diversity of our existing student population, our new first year cohort brings students from a variety of different backgrounds, comprising 47% students of ethnic minorities, 6 mature students, and 3 international students.
We're also pleased to welcome a number of new students who have decided to embark on a career in engineering from non-traditional school backgrounds, including a small business owner, a professional power lifter, and even a retired professional ice skater! Bringing together engineering students with different perspectives and experiences aligns with our mission – and that of our founding partners – to both bridge the diversity gap within the industry and to boost creativity with multidisciplinary teams, so that engineered products and solutions can better represent the needs of the societies they serve.
As part of their welcome week, our new students have been attending on-campus induction and social events to help them settle into life as TEDI-London students, as well as freshers events and fairs with King's College London student union (KCLSU). What's more, they have been trained to use the machinery and tools in our makerspaces safely, in preparation for the official start of term next week.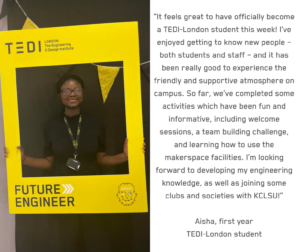 This academic year will see TEDI-London students across every cohort working in our makerspaces to apply the engineering knowledge they learn via online learning and teaching workshops through hands-on projects. Once again, one of the key focuses will be the right to repair, highlighting the importance of designing repairable products and solutions to help minimise the amount of electronic waste that is currently produced globally. As well as the TEDI-London academic team, students will benefit from the support of our Visiting Professors and industry partners, who not only co-design and deliver our projects, but also provide masterclasses and valuable project feedback.
Our new first years will study topics ranging from prototyping to designing for smart cities, whilst our returning second years will learn about ecological design, living labs, and more. Our third years will undertake their personal projects, during which they'll explore their own areas of interest in depth. For this project, around half of our third year students will undertake a 20-week placement with TEDI-London founding partner UNSW Sydney, whilst the others will be paired with a UK-based industry expert for mentorship. 2024 will also see the first TEDI-London graduation ceremony, to celebrate the BEng students from our inaugural cohort completing their Global Design Engineering degrees.
"We're delighted to meet our third ever cohort of TEDI-London students and to welcome back our existing students this week! We are expecting an exciting year ahead; continuing to grow our student community, whilst also seeing TEDI-London students graduate for the very first time. I look forward to seeing what our students across every year group achieve this year and wish our 2023 cohort all the best as they embark on their engineering journey with us."
Professor Kay Bond, Academic Director at TEDI-London
Interested in becoming a future engineer at TEDI-London? Read more about Global Design Engineering.