What is it like to be a mature student at TEDI-London?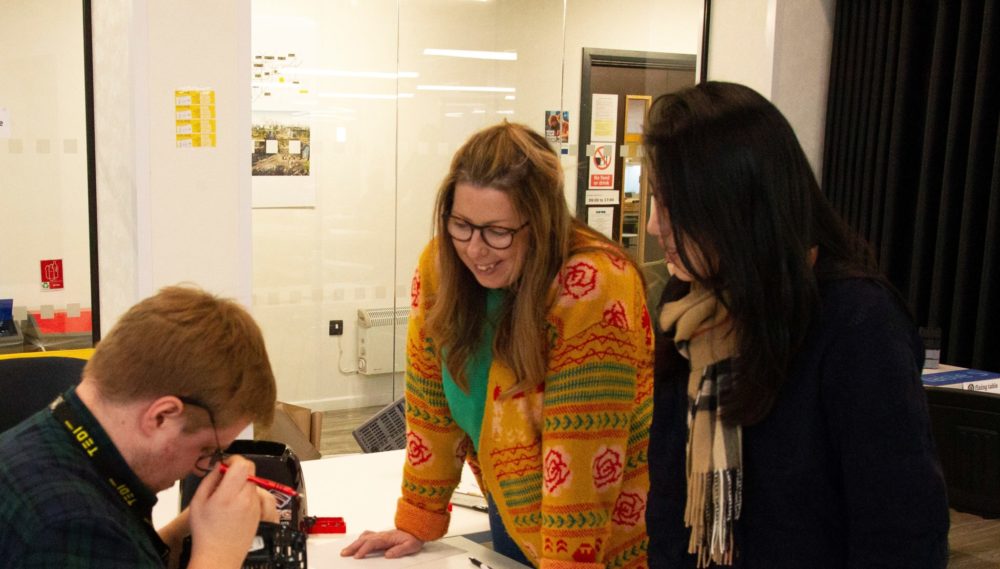 It can be daunting to return to education as a mature student after having spent time in the world of work, or doing other things. However, if you think that upskilling or re-training will be the right move for you, don't let fear hold you back!
To help paint a picture of what life is like as a mature student at TEDI-London, we chatted to Emily – a first year student who joined us last September after spending a number of years away from an educational environment:
What made you consider returning to education to study engineering?
I have always wanted to study at university, but unfortunately life and circumstances always seemed to get in the way of that dream. I first visited TEDI-London with my son as a potential place for him to study engineering, and fell in love with it myself! As a mature student, I knew it would be a case of now or never. I'm good at working with my hands and enjoy learning about science and technology, so I felt that the TEDI-London environment would enable me to take it one step further; not only fulfilling my ambition to further my education, but also using my manual skills to gain an academic qualification that would open up more career prospects.
I was drawn to engineering specifically because it combines my love of science and technology, as well as my creative side. My family has always encouraged me to pursue a career in engineering because of my excitement around projects that involve building or taking things apart. Plus, engineers are crucial when it comes to tackling the global challenges we're facing, so becoming one myself will mean that I can use my skills to make a positive difference.
How have you found your experience at TEDI-London so far?
Being a TEDI-London student has been great so far. I was very excited at the prospect of studying here, although being someone that often doubts their abilities, I was a little nervous at first. The project-based learning style is different to many more traditional universities, and provides me with enough flexibility to keep up with the other commitments and responsibilities I have outside of my university work. Our tutors are always on hand to offer support in all areas and are very responsive if I have any questions or need help understanding a topic fully. I really like the hands-on application of the theory we learn, as it has helped me pick up the technical aspects of the modules more easily than I think I would've otherwise. Without the opportunity to study a project-based engineering programme, I might have struggled; not because I'm not capable, but because traditional, lecture-based courses aren't the right fit for everyone.
How has the experience of starting higher education a bit later been?
Coming from a non-academic background has been a challenge, but then again, a degree wouldn't be worth it if it was easy! The way that the curriculum is structured at TEDI-London – with a blend of online and practical, in-person learning – gives me the freedom to adjust to being back in education and find the methods that work best for me. Because I'm older than most of my course mates, I was apprehensive about group working at first, but I needn't have worried; I've met some amazing new people and enjoyed pooling our individual strengths to complete our projects successfully.
What has been your favourite project so far?
I have enjoyed all of the projects so far, but my favourite would probably have to be Reverse Engineering, which we worked on during our first term. Dismantling a robotic vacuum was a great way to gain a better understanding of how existing products work and helped me develop my knowledge of electrical and mechanical engineering, as well as learning how to use CAD software, 3D printers, and workshop tools and equipment.
What's your favourite thing about being on campus?
The TEDI-London campus is in a great location, as Canada Water has lots to do and is only a couple of stops from central London, which has great nightlife! Within the campus building itself, the atmosphere is really friendly and relaxed, which makes it a lovely place to grab a coffee and find somewhere comfortable and quiet to work when I need to. Even when I'm not in teaching sessions or completing my independent work, I love spending time on campus. There is always something going on – from the Make Do Mend club and industry talks, to football games, pool tournaments, and pizza nights! When the weather is good, my favourite place to spend time is on the rooftop terrace.
Why should other students consider studying at TEDI-London?
I would encourage all students thinking about a career in engineering to visit TEDI-London. The practical application of theory definitely makes it easier to retain important knowledge, leading to a deeper understanding of engineering methods, principles, and analysis that can be difficult to gain in a lecture-based environment. We have access to a broad range of equipment and facilities, and are encouraged to make use of them for our own personal projects – not just for the projects we study within the Global Design Engineering curriculum.
One of the best things about TEDI-London is the amount of support and advice students receive, both personally and academically. I have two children that have also studied at university, and we often compare our experiences. When it comes to feeling valued and supported, TEDI-London comes out on top!
Interested in finding out more about TEDI-London student projects? Read about Reverse Engineering, Emily's favourite module so far.