Top tips for managing your money at university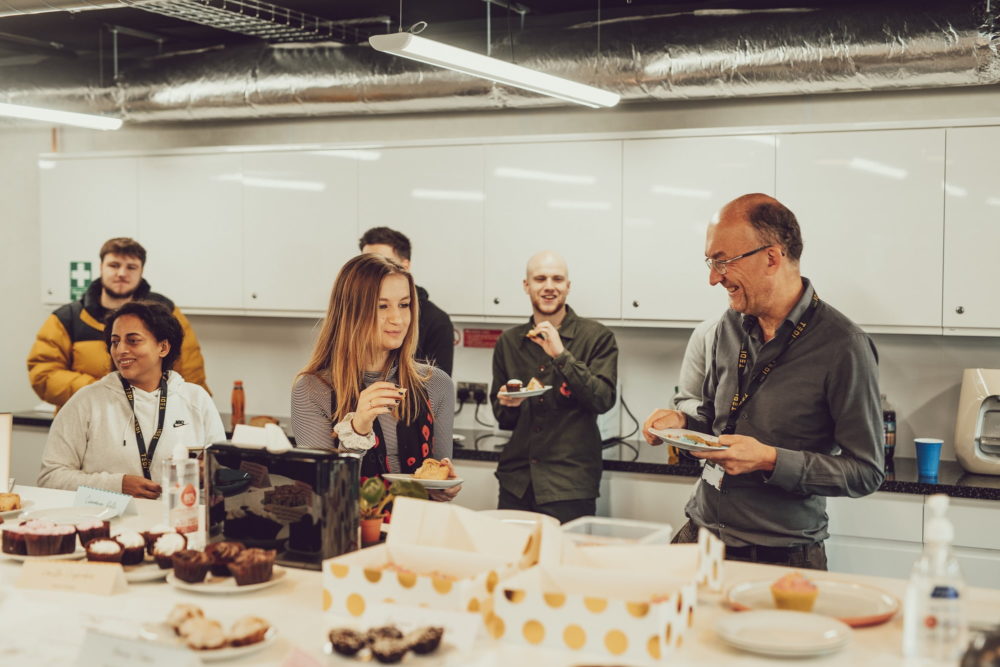 For most students, starting university is a significant change; it comes with new friends, a new schedule, and sometimes a new place to live. If you're not used to keeping on top of financial responsibilities such as travel costs, groceries, bills, and social activities, it can become overwhelming and difficult to manage. Learning to budget and save is a crucial life skill, so it's important to get into good habits as early as possible.
As it's National Student Money Week this week, we chatted to our Student Experience Officer, Iman, who shared some of her insights on saving money.
1. Create a budget and stick to it
When you receive your loan from Student Finance, or you're paid for a part-time job, don't be fooled into thinking that it'll never run out! Make time for financial planning; use a spreadsheet or a student budget planner to figure out exactly what your regular 'must have' expenses are – bills, travel, groceries, etc. It's also a good idea to keep some money aside in case you need to make any unexpected expenses like a repair to your laptop, prescription, or unplanned visit home. You can then allocate the remainder to savings and 'nice to have' expenses, such as a new outfit or a meal out with friends.
Iman's top tip: If you're making purchases online, it's sensible to avoid using 'buy now, pay later' schemes, as they'll put you in a position of debt. Hold off, and budget for it in the next month instead; if you can't afford it now, there's no guarantee you'll be able to afford it later, either!
2. Try walking or cycling
If you can, it is worth changing your schedule to allow time to walk or cycle into campus, and to get to and from the supermarket, student union society meetings, or anywhere else you need to go. Cities usually aren't as big as the transport networks would have us believe, and the daily transport fares quickly add up. Plus, having a daily walk or cycle is great for both your mental and physical health, and you won't need to spend money on a gym membership if you do it often enough! If you live too far away to walk or cycle, see if you can save by only travelling part-way, and walking the rest.
Iman's top tip: Use Citymapper to find the cheapest way to make your journey; whilst the default mode will provide the fastest route, you can amend the settings to find out which route will cost the least.
3. Prep and plan your meals
Wherever possible, it's best to make your meals from scratch, as it is much cheaper than relying on takeaways or ready meals from the supermarket. Planning your meals in advance each week can help keep you organised and ensure that you have all the ingredients you'll need, as well as reducing waste and unnecessary expenses as result of over-buying. Adopting this approach for your lunches is also a great way to cut costs; whilst it doesn't seem expensive to buy lunches and meal deals when you spend the day on campus, you'll soon see your expenses creeping up if you get into the habit of doing this every day. Find out where you can make sandwiches or re-heat food on campus, or prepare a packed lunch the night before. It's also worth finding out where you can find tea and coffee making facilities, instead of damaging the environment and your bank account by buying each time.
Iman's top tip: If cooking every day feels like a chore, save some time and make double portions that you can eat for two days in a row. Or, if you live in a student flat, you could suggest a cooking rota with your housemates – cooking one or two meals in bulk per week is cheaper and easier than making something new just for yourself each day.
4. Avoid buying new clothes
You would be surprised how many worn items you can save by carrying out a simple repair task; from sewing on replacement buttons and patching up holes, to taking your worn shoes to your local cobbler. Whilst it's inevitable that you'll need a few new items from time to time, it's important not to let this slip into a regular habit – especially when there are so many cheaper (and more sustainable) ways to shop. Check out your local charity shop to find second hand items going for much cheaper than you'd be able to buy them new. Or, you could even carry out regular clothes swaps with your friends and housemates, allowing you to switch up your wardrobe without spending a penny. To take it even further, look into how you might be able to host one at your university campus and involve the wider student community. After all, more participants means a broader choice of items to take home!
Iman's top tip: If you find yourself buying or swapping clothes because you don't tend to wear your existing outfits anymore, it's a good idea to have a clear-out and see what you might be able to sell. Try using Vinted or Depop to sell your unwanted items within your local area. That way, you can at least recover some of the money spent on new or second-hand outfits.
5. Find cheaper ways to socialise
Maintaining a good work-life balance is important, but it can quickly become expensive if you're attending regular dinners out, or visiting cocktail bars with friends. Yet, there are plenty of things you can do to socialise that cost a lot less. Head to one of the greener parts of your local area to go for a walk, or get together for a picnic. Instead of eating out, take it in turns to cook meals for your friendship group. Or, pooling together for a few ingredients to host your own cocktail party will be much cheaper than going out for drinks – plus you'll save yourselves the hassle of trying to find a table in a bar on a busy Saturday evening!
Iman's top tip: If you still want to socialise over the occasional meal in town, look for restaurants that offer a student discount and take advantage. There are plenty of restaurants that can either reduce your bill by a certain percentage, or offer a free drink. Just make sure to read the T&C's so you don't get caught out!
Read more on getting started with your financial planning for university