Introducing girls to engineering #3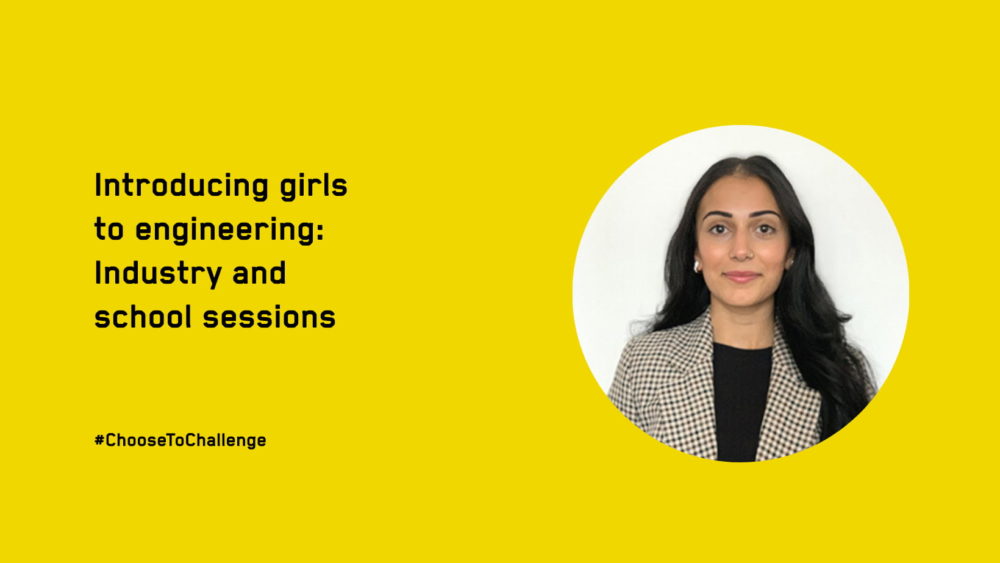 TEDI-London has been running a series of sessions to support the International Women's Month 2021 theme #ChooseToChallenge by connecting female engineering professionals with girls interested in pursuing a career in the field.
The virtual sessions aim to celebrate women's achievements and inspire school students to pursue a career in engineering, while also challenging issues including gender imbalance and stereotypes.
Pupils from Westminster Kingsway College met Neera Kukadia, a chartered Mechanical Engineer who works as a Project Engineer at Transport for London (TfL). Neera shared her journey to working at TfL after studying mechanical engineering and why she feels communication is a key skill for any aspiring engineer…
WHAT DOES YOUR ROLE AS A PROJECT ENGINEER INVOLVE?
If you look up when walking through any station in London you will find there are about 20 different engineering disciplines involved; from lighting and power, to water, heating, signage, cameras and speakers.  I get involved with every discipline and speak to all the different Engineers who are designing the stations. My job is to manage the engineering design and delivery of part of the station. Once all the designs are completed, I cross-reference to make sure they are all integrated, safe, compliant and as per building regulations.
The great thing about engineering is that you might not know what you want to do now but there is so much to choose from within the engineering sector and its various disciplines, from marine and medical engineering through to civil engineering. Most objects you use throughout your day have gone through the hands of an Engineer, and therefore it is very likely that you will find a sector of engineering that inspires you.
With engineering you get to positively impact lives and you have fun whilst making money which I think is the perfect goal!
"The way in which you explain complex solutions to a range of people is a skill I think is the most valuable."
WHAT'S YOUR BEST PIECE OF ADVICE FOR GETTING INTO ENGINEERING?
Research on the internet. A lot of people that chose engineering as a career in the past 20-40 years didn't have the luxury of using the internet and they just fell into it as a career, but you've got a really good opportunity to understand what area of engineering you might want to go into.
Getting physical experience is really important too. If TEDI-London [with its industry focus] had been around when I was looking at universities I would have gone towards that route, because what I enjoyed most at university was getting hands on, real-life experience.
You do not have to be the smartest person in the room to be a good engineer. There is a lot more to it. Communication skills and how you speak to people is a very important skill and often forgotten about. The way in which you explain complex solutions to a range of people is a skill I think is the most valuable. Every day I speak to dozens of colleagues across all different levels, and the way I communicate with them has to change. You speak to Apprentices who have just started their careers, and then to directors who have been in the industry for decades – it is about finding the right balance and knowing what language to use.
WHY DO YOU THINK IT'S IMPORTANT FOR MORE GIRLS AND WOMEN TO PURSUE ENGINEERING?
Only 16% of engineers at TfL are women which is not much at all and often I am the only woman in the room during meetings. The more women we encourage to go into the industry the better it will be for the future of women and for the industry.  A lot of young women tend to steer away from STEM subjects or do not choose to study engineering because they think it's going to be very technical, but it does not have to be. There are many branches of engineering that require management skills. My role since I graduated has not been too technical, I have focussed on engineering management and report writing, which is perfect as there is something for everyone.
It's not just about getting more women in engineering, it's about involving more people from different ethnicities, abilities and backgrounds too. Everyone has a a different way of thinking and different personal experiences can benefit innovation.
IF I AM THINKING ABOUT GOING INTO ENGINEERING AND TRYING TO GET ONTO AN APPRENTICESHIP OR INTO UNIVERSITY WHAT SHOULD I DO TO SHINE?
Focus on communication, as the way you communicate can change absolutely everything. I have interviewed for apprenticeships at TfL recently and often you can tell the interviewee is technically smart and their knowledge is sound, but they can't communicate their answers properly. I would advise that you work on both your technical knowledge and on practicing presenting to people you know.
It is also important to remember you do not need to know everything during interviews, you should never feel like you need to pretend you know all the answers, as long as you are honest and communicate you are willing to learn and develop on those skills, it will come through to the interviewer.
Watch the full inspiring session here:
ABOUT THE ENGINEER
Neera Kukadia CEng MIMechE is a Project Engineer at Transport for London. She works in the Major Projects Directorate, where she is currently managing works on the Elephant & Castle Station Capacity Upgrade Project