Celebrating Women In STEM day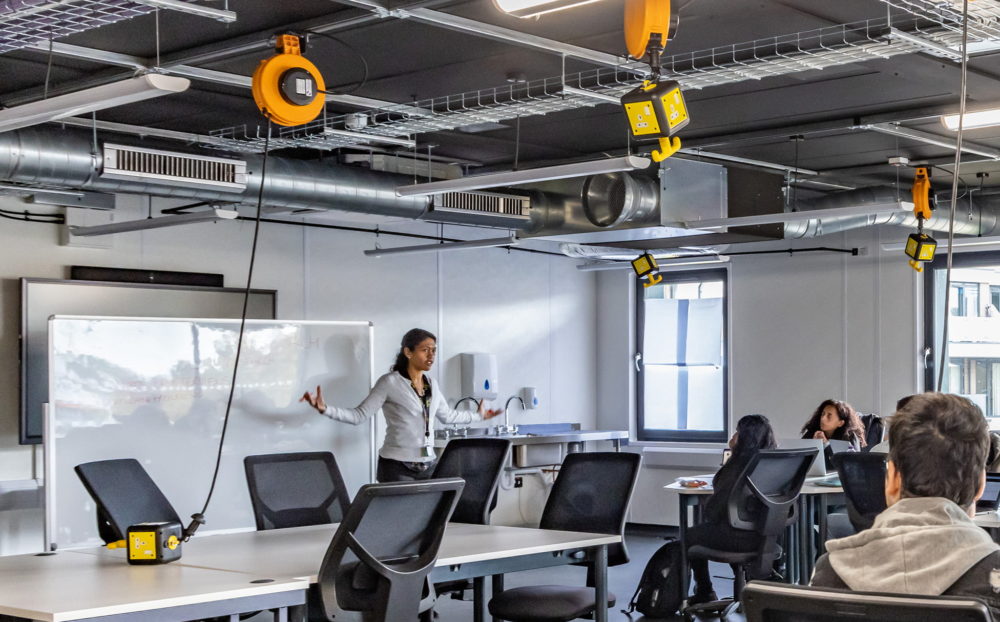 Did you know that today is the International Day of Women and Girls in Science, where we recognise the critical role that women and girls play within STEM industries such as engineering?
To mark this important date, we had a brief chat with TEDI-London's Head of Learning Tree, and Chartered Architect Cheryl Pilliner-Reeves, to find out more about her experiences as a woman in STEM and her advice for the next generation of female engineers.
Before you came to TEDI-London, what was your background and why did you decide to pursue this? 
I'm a sustainable architect and an academic. Before joining the TEDI-London team, I worked as an environmental consultant on the Francis Crick Institute in King's Cross where I helped with the Atrium design to ensure that the working spaces would have optimal daylight. I've also worked on designing the Burlington Danes Faculty of Medicine for Imperial College and the Leverhulme Centre for Human Evolutionary Studies for Cambridge University. 
When I was at school, I enjoyed maths, art, model making, interior design and the study of people. I discovered that becoming an architect would allow me to use all these skills whilst reading a careers book I picked up in the school library. Even though I had taken careers quizzes at school, architecture had never come up; the suggestions were always more arts focused, like becoming an illustrator. This didn't appeal because I didn't want to choose only one of the areas I was good at, so I was amazed to find that architecture included all my favourite subjects. 
What has been your greatest accomplishment during your career? 
I think it would have to be when I founded Archimake, which is an architecture school where children from the age of seven can learn about the subject. Since being founded, the programme has supported multiple schools in London as well as teaching children internationally through online learning. Setting up Archimake was a real challenge for me, as I had to establish everything from scratch. This included designing a curriculum that would be engaging and accessible to a broad range of children, learning the best way to deliver a course in 10 one-hour blocks, and developing a format for children to present their projects to their parents. I was also tasked with training new staff and showcasing the initiative to industry professionals, which we achieved by inviting them to student presentations so they could see for themselves that children can successfully design an architecture project within nine hours. 
Another career highlight was appearing on the BBC programme '100K House', during which I redesigned a couple's home, giving them five new rooms for less than the price of a new car. 
Is there a particular woman in STEM who inspires you? 
Our very own Dean & CEO, Professor Judy Raper, inspires me. She has been part of the TEDI-London journey from the start and taking it from an idea to welcoming our first cohort of students in September 2021 is a major accomplishment. She has been integral in forging a fantastic team of staff and creating an innovative course so that students will be prepared to tackle some of the key global challenges we're facing now and in years to come. Improving diversity within STEM industries is a huge challenge and to see Judy's vision coming to life to help achieve this is a wonderful thing to be a part of. 
Why is it so important for girls to pursue STEM careers? 
It is crucial that the needs of women are considered in engineering solutions. Engineers add value within society because they help to solve problems and improve the lives of the people that surround them. The world we live in is made up of so many different people, where diversity exists across race, culture and socioeconomic background, as well as gender. Without a workforce that represents everyone, solutions may not adequately serve the people they are for.  
Finally, what advice would you give to a young woman looking to get into engineering? 
Keep a strong understanding of yourself and your strengths and try to do well at maths and creative subjects. Remember, engineers need a broad range of skills and any of these can be improved with hard work and a positive mindset. Question anyone who says you can't do something as it may be a reflection of the limitations they have set for themselves. 
If you want to find out more about Cheryl and the rest of the TEDI-London academic team, you can visit our people page.