A day in the life of a TEDI-London student: George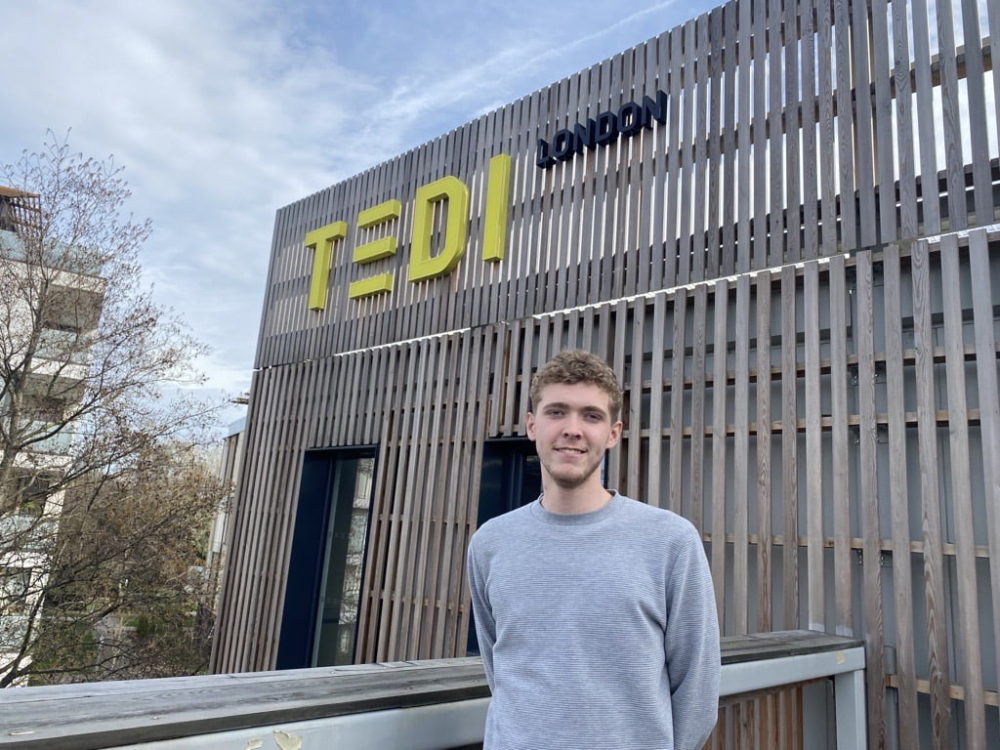 Have you ever wondered what day-to-day life is like for TEDI-London students? We asked second-year student George Greenwood to tell us what a typical day on campus looks like for him: 
7am: 
I wake up, get ready, and set off on my journey to campus. I always take the train to Surrey Quays station, which takes about an hour. Before I walk to campus, I usually stop at my favourite local café – MAKEMAKE coffee – to grab a coffee and a delicious cinnamon roll to start off my day. On the way to campus, I pass the shopping centre as well as the Rotherhithe bascule bridge, which was designed in the 1930s to allow ships to pass between the different docks within the area. Although the bridge isn't used any more, I still enjoy passing it because it reminds me of the work that other engineers have done in the past to improve the places around them.  
9am:
After greeting my course mates and spending a bit of quiet time on campus, we head to the makerspace together for our morning teaching session. About halfway through our teaching session, we have a short break, which is when I usually like to stretch my legs with a stroll along the dock nearby, or grab a snack at the local shop. 
The module we're currently working on is called User-Centred Product design, and is in partnership with Brompton Bicycles, who would like us to help them improve cyclist safety. Two of the academics – Sam and Matt – have tasked us with creating a sustainable and economically viable product that could potentially be released in the market. We've already had a few meetings with the Brompton design team, who have reviewed our design ideas and provided recommended changes to improve them.
I'm using both CAD software and manufacturing techniques to make prototypes of my product, which is a mounted device allowing cyclists to indicate their direction to other road users. Today, I'm tackling a challenge I encountered recently – my product taking too long to mass manufacture. My research has found that if I use a 3-axis milling machine for production instead, I can speed up the process, so I'm working on adapting my design. 
1pm:
Once our teaching session wraps up, I head out with some of my friends to pick up some lunch at Green Zen – a poké and bubble tea bar at the entrance to Canada Water station. On the way back, I like to walk along the Surrey Water footpath as it's more peaceful than the main road. By the time we get back to campus, some of the first year students have already arrived for their afternoon teaching, so we pick up our longstanding pool tournament – it's always good to take part in some friendly competition!  
Because TEDI-London is small and new, we've been able to set up some of our own social clubs outside of our teaching sessions. When the weather is good, I like to join the running club to get a bit of exercise and fresh air. Each time we meet, we try to go to a new place within the local area, and we've really enjoyed some of the views we pass when exploring the different docks and quays. 
3pm:
In the afternoons, you can usually find me working on my online learning modules or heading into central London to do some exploring. But today, I decided to participate in the extra-curricular robotics club on campus, which is a great way to learn and improve my knowledge outside the classroom. At the moment, I'm working with my partner Uzair to create a remote-controlled moving robot using Parallax and Arduino. We've recently had to research the necessary code and assembly needed to build the robot correctly, and I was surprised to learn how much detail we had to go into to achieve our aim, and how vast the capabilities are when it comes to robotics! 
7pm:
As it's nearly the end of the week, I wanted to spend some time with my friends outside of campus to have some fun and take a well-earned break from project work. Since campus is round the corner from Printworks, we decided to check it out and go to the Defected concert that was playing. This is just one example of some of the great nightlife that London has to offer, and I really enjoy hanging out with my friends at places like this during the evening, as it gives me the chance to get to know them better on a more personal level.  
Want to find out more about day-to-day life at TEDI-London? Read more student experience stories.