A day in the life of TEDI-London student: Shafeen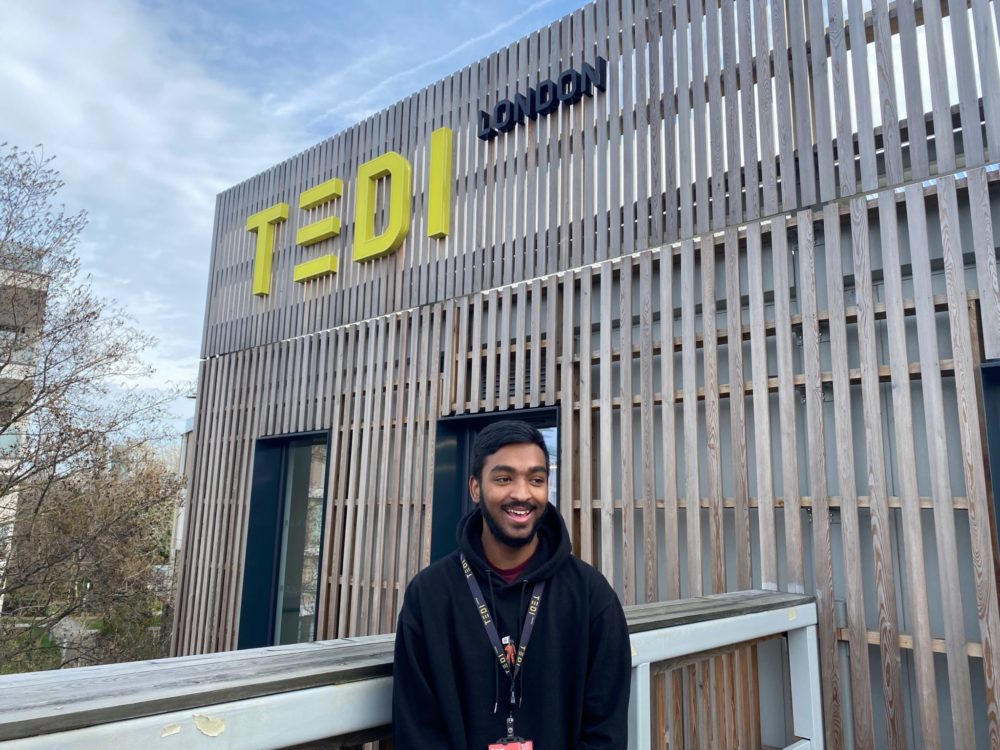 From site visits to teamwork and sampling London's food spots, TEDI-Londoner Shafeen runs through what a typical day looks like for him as a second year student. 
8am:
In the morning, I take the tube to TEDI-London's campus in Canada Water. This is usually a 30–35-minute journey for me, but sometimes the tube can be very crowded. Depending on how much time I have before my first session, I go to a café right next to Decathlon – near the station – which has some nice croissants to fuel me up for the day. It's a very nice walk to the campus since I walk past a lake, which is one thing I like about the local area. As campus is based near the docks, there are plenty of lovely walks we can take to break up the day. 
9am:
On Wednesdays, we don't tend to have teaching sessions in the morning, so it's a great time to catch up on some project work. At the moment, we're focusing on our Ecological Design module where we are conducting research into various types of heat pumps for The Woodfield Pavilion situated in Tooting Common. This is a team project, and my group consists of four people including me, Visha, Connor, and Stuart – who are all great people to work with! The Woodfield Pavilion is a community centre who want us to help them inspire people in the local area to take steps towards understanding carbon zero heating alternatives, and they believe the best way of doing that is by setting an example for the community. So, within the group I was responsible for creating the video for our final assessment as well as looking at the embodied carbon of different types of heat pumps. 
11am:
My project team travelled to The Woodfield Pavilion to take some videos for our Ecological Design module assessment; we've been challenged to create a short video which provides information on our chosen heat pump. It's a pretty cool task, because we have to combine both engineering knowledge and videography, taking us out of our comfort zone!  
During our site visit we interviewed a member of The Woodfield Pavilion to give us a better understanding of the site. We also used it as an opportunity to collect fresh tiny tag data which we used to measure the temperature of the environment. Within the video, we also need to make sure that a non-technical audience would be able to understand what a heat pump is and how the technology can be used. This is a really important part of our project, due to the fact that we are presenting our research to investors who may not understand all the technicalities behind the system and in order for them to invest, we need to be able to present them with all the facts. 
1pm:
After the site visit, I went for lunch with a few members of our second year cohort to a place called Pho near Balham Station. As a cohort we try to go for lunch together as often as possible. Sometimes it is tricky to find the time – like when our submission deadlines are coming up – but we still try to take every opportunity to go out together as a group, so we can socialise and get to know each other outside the campus environment. It's very easy to go to different places since there is a very good transport system in London and it only takes 10 minutes to get to London Bridge from Canada Water. That's probably why we end up at Vapiano by Tower Bridge a lot of the time – which is a place I highly recommend trying out.  
4pm: 
After a busy day doing project work, I like to spend some time finding different activities to do outdoors. I really enjoy exploring the city by bike, which is very easy to do in London because there are lots of places to rent bikes from. Today, my friend George decided to come cycling with me for the rest of the afternoon. We started in Canada Water and ended our journey near Regent Street, passing London Bridge – which has a great view, especially at night – along the way. 
Want to find out more about day-to-day life at TEDI-London? Read more student experience stories.